Advisory board
Khaled Ahmed (Pakistan)
Khalid Ahmed is a senior journalist and renowned intellectual. Currently he is serving as consulting editor Newsweek Pakistan. He has also served as Associate Editor Daily Times (2005-2010). He has been designated as Director SAFMA South Asia Free Media Association (2010-2013).
---
Rubina Saigol (Pakistan)
Rubina Saigol is currently an independent researcher. She has authored and edited several books and papers in English and Urdu on nationalism, the state, ethnicity, religious radicalism, terrorism, education, feminism and human rights. Some of her publications include Knowledge and Identity, Symbolic Violence, Locating the Self; Social Sciences in the 1990s; A Critical Appraisal of the Human Rights Movement; Women and Resistance; Engendering the Nation-state; Aspects of Women and Development; Deconstructing Terrorism: Discourse and Death in Pakistan; Militarization, Nation and Gender; Talibanization of Pakistan.
---
Dr. Catarina Kinnvall (Sweden)
Catarina Kinnvall is associate professor of political science at Lund University, Sweden. Her research is centered on issues of globalization, religion, nationalism and identity conflicts. She is the author of a number of books and articles. She serves as vice president of the International Society of Political Psychology.
---

Dr. Khalid Masood
Dr. Khalid Masood is former chairman of the Council of Islamic Ideology (2004-2010). He also served as director general at the Islamic Research Institute,International Islamic University, Islamabad (2011-2013), and an ad-hoc judge and member of Shariat Appellate Bench at the Supreme Court of Pakistan in 2012. He was Distinguished Visiting Professor of Kulliyah of Laws at the International Islamic University, Kuala Lumpur (October-December 2003). He has an extraordinary scholarship on Islamic law and history as well as contemporary issues linking religion to conflict, politics and sociocultural discourse.
---
Ghazi Salahuddin
Ghazi Salahuddin is a Pakistani journalist, writer, literary figure. He has written various analytical columns, both in Urdu and English. He studied and graduated from the University of Karachi.
---
Anooshe Aisha Mushtaq
Anooshe is an Australian based consultant and social commentator who regularly speaks at national security conferences and publishes on topics such as the prevention of violent extremism from the grassroots perspective, and the analysis of Islamic State's online propaganda. She is Founder and Director of the Raqib Taskforce, a Muslim-led organisation that designs, monitors, and evaluates online programs that empower Muslim youth. She is a regular guest speaker at the Australian National University's National Security College courses on CVE and Counter Terrorism. Anooshe is a Lead Consultant to members of the Australian Government's Countering Violent Extremism Services Panel.
---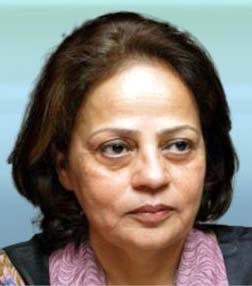 Prof. Dr. Khalida Ghaus
Prof. Dr. Khalida Ghaus is a former managing director of Social Policy Development Center, and ex-chairperson of Department of International Relations at University of Karachi. She has a teaching and research experience of over 35 years and has mainly worked in areas of foreign policy, socio-economic development, gender, and societal security issues. She has to her credit many monographs, books and research articles. Dr Ghaus has been involved in policymaking processes at the federal and provincial levels, besides being involved in Track 2 initiatives for the last couple of decades.
---
Dr. Syed Jaffar Ahmed
Dr. Syed Jaffar Ahmed is Dean, Faculty of Social Sciences, Sohail University, Karachi, and Director, Institute of Historical and Social Research. He has been Director of Pakistan Study Centre, University of Karachi, for more than 18 years. A renowned educationist, and public scholar, Dr. Ahmed has written extensively on politics, constitution, history, and literature. He is author and editor of 25 books and has contributed numerous articles to various research journals.