Poor education and rising extremism key challenges facing Muslim world
Lack of a culture of research and enquiry, indifference to modern education, and growing trends of sectarianism and religious extremism are the key challenges facing Muslim world today. This was acknowledged by Islamic scholars from Pakistan, Egypt, Turkey, Indonesia, Iran, Bangladesh and Malaysia in a international conference on "The Emerging Challenges and the Responses from Religious Scholars," organized by Pak Institute for Peace Studies (PIPS) in Islamabad on September 17-18.
Islamic scholars asserted that the faith ordained in the Quran was meant to establish peace among people and did not permit violence. They also noted that the Muslim world had largely disengaged from study of science and the process of creating new knowledge. Neither were there any efforts to revive the science of developing independent opinions (Ijtihad) to develop a renewed understanding of how to apply Islamic precepts in ever changing affairs of world.
A delegate of eight Islamic scholars from six Muslim countries visited Pakistan from September 17 to 20 to participate in three-day activities organized by PIPS including the above cited seminar and subsequent visits to different Islamic institutions and madrassas in Pakistan. The delegate included the following Islamic scholars: Dr. Mohayyudin Afifi (Dean, Faculty of Islamic Studies, and representative of the grand imam of Jamia tul Azhar, Egypt); Dr. Arif Zamhari (Director, Kulliyatul Quran College of Al-Hikam, Jakarta, and a leading scholar of Nahdatul Ulema, Indonesia); Shaikh Mehmet Paksu (a religious scholar and writer from Turkey); Maulana Obaidur Rehman Nadwi (religious scholar from Bangladesh and assistant editor daily Inqilab); Dr. Kamarulnizam bin Abdullah (Professor, Department of International Affairs, School of International Studies, University Utara Malaysia); Dr. Abdul Mu'ti (Professor, State Institute for Islamic Studies (IAIN) Walisongo, Semarang, and Secretary, Central Board of Muhammdiya, Indonesia); Dr. Abideen Momanee (Head, the Cultural and Islamic Relations Organization, Tehran, Iran); and Maulana Bakhtiar Ahmad (Principal, Madrassa Al-Rehman, Dhaka, Bangladesh).
Their visit to Pakistan was part of exchange of delegates of religious scholars between Pakistan and other Muslim countries, an element of a PIPS program that undertakes to engage religious scholars and madrasa students for promotion of peace and religious harmony in Pakistani society. Earlier a delegation of 11 leading religious scholars from Pakistan had visited Jakarta, Indonesia for a three-day study tour (June 24-26).
The purpose of the daylong international seminar was to enhance interaction among Islamic scholars from different countries and encourage them to share their views on the challenges facing Muslim world and discuss the role of religious scholars to respond to these challenges. The seminar was divided into four sessions, which were chaired respectively by Maulana Muhammad Khan Sherani, chairman of the Council of Islamic Ideology, Mufti Muneebur Rehman, chairman of Central Ruet-e-Hilal Committee, Dr. Kamarulnizam bin Abdullah (Malaysia) and  Dr. Mumtaz Ahmed, executive director of Iqbal International Institute at International Islamic University Islamabad.
The seminar commenced with a welcome reception on September 17. Khwaja Khalid Farooq, national coordinator for the National Counter Terrorism Authority (NCTA) was the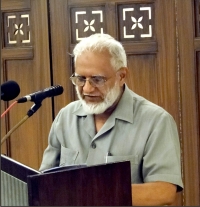 Chief gust and Dr Khalid Masood, director general of Islamic Research Institute, International Islamic University, Islamabad delivered keynote address. Dr. Khalid said in his welcome remarks, "the visit of delegation of Islamic scholars to Pakistan has come at a time when Muslim ummah, particularly youths are going through a deeply distressing experience of sacrilegious material against their Prophet (pbuh). They are enraged by the humiliation of their faith and identity." Dr Masood said this is because Muslims have been neglecting some important Islamic principles. "Neglecting education and intellectual preparedness is still preventing us from understanding the complex world of interdependence in which we have been forced to live together with others," he added. He acknowledged that the religious scholars had never failed to stress upon the need for religious education but lamented that most of them supported a colonial worldview of darul harb (a territory where enforcement of the Islamic commandments is not possible, and neither are Shariah commandments in effect). He said Islam emphasizes good deeds as part of the faith. The Quran does promise victory for the believers but only for those whose faith in God leads to peace among people.
Khwaja Khalid Farooq, national coordinator for the National Counter Terrorism Authority (NCTA) was the chief guest in the reception ceremony. He said that the divide between the Muslim and non-Muslim world was increasing due to the concept of clash of civilization. He said Islamic scholars need to address the current challenges faced by the Muslims, particularly the sectarian divide among Muslims, which is a major hurdle in evolving a united response to these challenges. He urged Islamic scholars to come up with some solution to the issues such as extremism, sectarianism and terrorism.
Maulana Sherani said in his inaugural address that it is crucial for Muslims to stop finding faults in others for their failures and start focusing on their inner selves. He emphasized the need to highlight the commonalities among humans instead of focusing on differences and conflicts. He urged the United Nations to ensure religious freedom for the followers of every religion.
He argued that violence had no place in Islam. No religion taught violence, nor has any prophet propagated it. PIPS director Muhammad Amir Rana welcomed the religious scholars from Pakistan and other countries and termed the conference a remarkable opportunity for Islamic scholars to share their ideas and experiences on contemporary challenges facing Muslim world.
Dr. Qibla Ayaz, director of Institute of Islamic Studies, Peshawar, said in his keynote address that it is unfortunate that in Muslim world education is deemed as spending whereas in rest of the world it is considered as an investment. He termed the growing trend of extremism in Muslim societies a major concern and called upon the civil society members and religious scholars to come forward and educate people about celebrating differences and keeping unity despite of differences.
Dr. Arif Zamhari, a religious scholar of Nahdatul Ulema, Indonesia declared lack of education and modern knowledge among Muslims the biggest challenge facing the Muslim world. Dr. Zamhari said Muslims lag far behind the other nations in almost every field of modern education and thus it must be an area of concern for all the Muslims in the world.
Sheikh Mehmet Paksu from Turkey said that Muslims should develop a system of education that could cater their religious and spiritual needs as well as the contemporary requirements.
Mufti Muhammad Zahid, vice principal of Jamia Imdadia, Faisalabad, Pakistan said Muslims cannot perceive political systems of their states in perspective of secularism. Therefore they analyze and seek solution to their socio-political issues in accordance with guiding principles of Islam. He said it is however a positive sign that Muslims around the world have developed a strong realization that they need to equip themselves with modern education.
Maulana Yasin Zafar, chief administrator of Wafaqul Madaaris Salafia, Pakistan emphasized that education ought to be objective and getting a good employment should not be the mere objective of education. Instead, education needs to carry the objective of serving humanity.
Maulana Obaidur Rehman from Bangladesh said absence of khilafah (Islamic caliphate system) and rising sectarianism are two major challenges facing the Muslim ummah and the responsibility to cope with these goes to the political leaders, the Islamic scholars, intellectual and professionals and the literate people.
Dr Zafar Iqbal Jalali, principal of Jamia Ghousia Rizvia, Islamabad said media should play its positive role in countering the effects of ideological attacks on Muslims. He added that government should make a policy to counter the propaganda and religious decrees (fatwas) which are absurd and to reform the overall education system of religious seminaries.
Dr. Abdul Mu'ti from Indonesia said the crises in Muslim societies are mainly due to their indifference to the learning of modern knowledge of science and technology in which their ancestors were adept and led the world a millennium ago. Dr. Mu'ti highlighted the need to respond intellectually to emerging challenges instead of through use of force. He said collaboration among all segments of Muslim societies was imperative to generate effective responses to the challenges facing Muslim world.
Dr. Raghib Hussain Naeemi, principal of Jamia Naeemia, Lahore pointed out that educational system of Pakistan is divided on many levels and the socio-economic structure of Pakistan is too incapable to lead the country to prosperity. He suggested an enhanced interaction between scholars having modern and religious education.
Muhayyuddin Afifi from Egypt said Muslim ummah could improve its status among the nations by strengthening its Islamic identity or affiliation with Islam. He highlighted the need for Ijtihad and renewal of understanding of new methods of progressing according to Islam in modern times. He said Islam should be embodied in every field of knowledge, ethics and actions; it should not be only the claims and sayings.
Allama Niaz Hussain Naqvi, vice president of Wafaqul Madaaris Al-Shia, Pakistan termed ignorance and illiteracy the basis of every problem and stated that Muslims are in the process of self-destruction.
While Dr. Anis Ahmed, vice chancellor of Rifah University, Islamabad strongly criticized Muslim countries for not spending enough of its GDP on education and mentioned that no
Muslim country around the globe gives importance to education, a basic factor of their lagging far behind the developed world.
Maulana Ammar Khan Nasir, deputy director of Al-Shariah Academy, Gujranwala, Pakistan said Muslim ummah needs to adopt the tradition of establishing think-tanks and research institutes which should promote culture of research and enquiry, and connect the dots between literacy and education while synchronizing with the modern education.
Delegates' Visits & Lectures
For the next two days, following the international seminar, PIPS organized visits of the delegation of Islamic scholars to different madrassas and institutions in Islamabad, Faisalabad and Lahore. Islamic scholars interacted with madrassas students and delivered lectures on the need of peace and acquiring scholarship both in Islamic and modern technological studies.
For this purpose they were divided into two groups on the first day (September 19). The first group included: Dr. Mohayyudin Afifi (Egypt), Dr. Arif Zamhari (Indonesia), Maulana Obaidur Rehman Nadwi (Bangladesh), and Dr. Kamarulnizam bin Abdullah (Malaysia). It first went to the Jamia Muhammadia, affiliated with Wafaqul Madaaris Al-Arabia (Deobandi school of thought). Islamic scholars visited different departments of the seminary and admired the teaching methods. They shared with madrassas principal and teachers the education system of their respective countries and stressed upon the need of modern education.
The group then visited International Islamic University, Faisal Mosque campus. Dr. Khalid Masood Dr. Mumtaz Ahmed welcomed the delegates. Dr. Mohayyudin read the views of the grand imam of Jamiat ul Azhar, Egypt that suggested the middle way to overcome the contemporary problems facing Muslim world. Maulana Obaidur Rehman said Pakistani religious scholars should play their role in promoting sectarian harmony in Pakistan. Indonesian and Malaysian scholars were of the view that the Muslim countries should focus on their economies to compete the world. Pakistani and the visiting religious scholars agreed that the promotion of the culture of tolerance and harmony is the need of the time to bring peace in the world.
The next visit of the first group was to Darul Uloom Muhammadia Ghosia Bhera, in district Sargodha. Hundreds of students of the seminary warmly welcomed Islamic scholars' delegation with flowers and chanting slogans. The delegates delivered lectures in the auditorium of the seminary. Dr. Mohayyudin Afifi stressed upon the need of Ijtihad and renewal of the practical parts of religious doctrines. Dr. Afifi told the students that the path of Jamia tul Azhar was the path of tolerance and harmony. Dr. Arif Zamhari from Indonesia said the students of seminaries should learn all kinds of knowledge. Dr. Kamrulnizam from Malaysia said that the Muslims should know the international affairs and they have to respond intellectually.
The second group comprised Dr. Abdul Mu'ti (Indonesia), Maulana Bakhtiar Ahmad (Bangladesh) and Maulana Abdal Haq Hashmi, a member of central executive committee of Jamaat-e-Islami, Pakistan. It visited madrassas in Faisalabad. First it visited Jamia Salfia, Faisalabad where Maulana Yasin Zafar, secretary general Wafaqul Madaaris Al-Salfia (Ahle Hadith school of thought) and head of the Jamia Salfia welcomed the delegation. He told the delegates that his seminary offered both modern and religious education. Some Indonesia students who graduated from this seminary had held high offices in Indonesia. Dr. Abdul Mu'ti told the students about the educational system of his organization [Muhammadia] in Indonesia that inspired the administration of seminary to discuss the process of collaboration with the educational institutions of Indonesia. The group then visited Jamia Imdadia, Faisalabad (affiliated to Deobandi school of thought) and was received by hundreds of students. While talking to the students, Dr. Abdul Mu'ti said that the Muslim community has to enable the reemergence of a great deal of responsible, independent, devoted, creative intellectuals from within the community itself, particularly among youth and women. Maulana Bakhtiar Hussain from Bangladesh said the students should follow the pure teaching of Islam and should not mix the politics with religious education.
On the second day (September 20) a group of three Islamic scholars including Dr. Mohayyudin Afifi (Egypt), and Maulana Obaidur Rehman Nadwi and Maulana Bakhtiar Ahmad
(both from Bangladesh) visited madrassas, or religious seminaries in Lahore. First they went to Jamia Naeemia, Lahore (affiliated with Tanzeemul Madaaris of Barelvi school of thought). Principal of the seminary Dr. Raghib Naeemi welcomed the guests and briefed them about the history and development of the seminary. The delegates met the teachers and students, admired the mission of the madrassa against terrorism and violence and asked the teachers to promote their message of peace across the society.
The delegates also visited Jamitul Muntazir in Lahore (affiliated with Wafaqul Madaaris Al-Shia). Allama Syed Riaz Hussain Najfi, principal of the madrassa, presented before the delegates the education system of Shia school of thought. The teachers and a number of students were also present in the meeting. The delegates then visited the central office of Jamaat-e-Islami in Mansoora, Lahore. The president Rabita tul Madaaris, an organization of madrassas affiliated with Jamaat-e-Islami, head of foreign affairs Jamaat-e-Islami, vice president Jamaat-e-Islami and the director Sayyed Maududi International Islamic Institute met the scholars and shared their views on different political and international affairs.