Prosperity and stability require investment in education
The state of education in Pakistan is miserable and requires an emergency response. The developing nations are progressing fast because of their investment in education. Both Pakistani state and society have to realize that the dream of prosperity and stability cannot be fulfilled without focusing on education. Being a teacher, parent, religious scholar, politician, civil society activist, journalist and a citizen as well as the government we all need to do efforts for promotion of education in the country. This was the consensus among the speakers of a national seminar on "Basic Right to Education, Legislation and Implementation: National and Religious Obligations," jointly organized by Pak Institute for Peace Studies (PIPS) and Alif Ailaan in Islamabad. Religious scholars or Ulema from various schools of thought, and representatives of different madrassa educational boards participated.
The chief guest, Federal Minister for Religious Affairs, Sardar Muhammad Yusuf while addressing the gathering of religious scholars stated that the current situation of education in the country cannot be declared satisfactory for which state and society are equally responsible. He said that the government would appreciate any recommendations or suggestions in this regard coming up from Ulema. He stressed on religious scholars that the promotion of education needs devotion and passion and the religious scholars can efficiently do this job.
In his inaugural remarks, director PIPS Muhammad Amir Rana said the religious segments need to play their role in the promotion of education and betterment in the educational system. "We should eradicate the obstacles in the way of betterment of the situation of education in Pakistan," he stated.
In his keynote address during the first session focused on "The fundamental right to education: Responsibilities of state and society," renowned religious scholar and former chairman the Council of Islamic Ideology Dr. Khalid Masud said that the state needs to fulfill its constitutional and legal obligations to provide free education, without any gender and racial discriminations. He said that the gap between madrassas and formal educational institutions need to be bridged because our religion demands the Muslims to make this world better.
Former federal minister Maulana Noor-ul Haq Qadri said acquiring education is more of a religious obligation than a constitutional and legal right. It is the religious obligation of Ulema to incorporate education in social values held by Muslim Ummah. The major obstacle in the way of education is the parallel educational systems prevailing in Pakistan which need to be addressed seriously.
Chief Khateeb Khyber Pakhtunkhwa Maulana Rooh Ullah Madni said since religious trend prevails in Pakistan, it is the responsibility of Ulema to present the importance of religious and modern education in religious paradigm. He stressed that the government needs to get experience from madrassa education system that developed with limited financial sources.
Member Gilgit-Baltistan Council Maulana Ataullah Shahab stressed upon the religious leadership that they can play an effective role in the formulation of education policies for their respective provinces, through raising awareness among masses.
Deputy Director Taqreeb Mazahib-e-Islami Dr. Syed Muhammad Najafi said our educational curriculum is stagnant and not producing desired results and we should formulate such a curriculum which could make us a patriot Pakistani, a devout Muslim, and a good citizen so that every individual could serve the nation.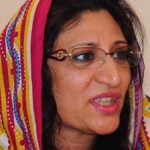 Highlighting the role of women in education, Dr. Noor Fatima underscored that educating a girl means educating the whole family. So, it is vital to take female education into consideration. She pointed out the stereotypical attitude of people who do not allow the women to pursue success in any position.
Former vice chancellor of University of Peshawar Dr. Qibla Ayaz said in his presiding remarks during the second session titled "Social, civil and professional role of a teacher and his/her status in the society" that our education system should also focus on character building ( tarbiah). "The role of teachers is not confined to teach the students how to read and write but also to make them good citizens," he maintained.
Administrator of Jamia Banoria Karachi Maulana Masud Baig talked about the teacher as a continuity of cultural and social symbol. He said that it is the responsibility of a teacher to promote high values in society. The life of the Holy Prophet (PBUH) is the role model for us as an instructor and teacher in this regard. He said we should teach the students all the skills and subjects which we borrow from the West.
Sheikhul Hadith Daral Uloom Muhammadia Ghosia Bhera Mufti Sher Muhammad Khan presented his views on how teachers could inculcate social creativity and rationality among students. He urged upon the practical aspect of education instead of just relying on theory. He said that the modern and religious education should go side by side in order to establish a balanced society.
Advisor to Shariat Court Allama Abdul Haq Hashmi mentioned the importance of acumen in a teacher and said that if a teacher has wisdom, he/she can create leaders through honing the hidden skills and abilities of students.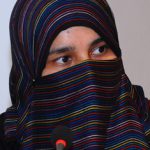 Research scholar at Sheikh Zayed Islamic Centre at University of Peshawar Syeda Hoorul Ain discussed the responsibility of mothers in education of their kids and said that although a mother is trained by nature to nurture her child and guide it properly, however, a well-educated mother can be more beneficial in that regard. Excess or deprivation of love and pampering can affect the personality of a child so it is important for a mother to keep a balance in everything towards her child. She added that that the tradition of mothers telling stories to their children that had a moral lesson has weakened in recent years. She suggested that this act should be practiced more frequently so the learning of a child starts from his/her home.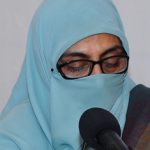 In-charge Da'wah Center for Women at International Islamic University Shagufta Omer stated that the education of women has given much importance in religion of Islam. She said the government should establish new schools and colleges for girls and make arrangements for their transportation.
Other discussants included: Secretary General Majlis Wahdatul Muslimeen Balochistan Allam Maqsud Ali Domki; Assistant Professor Sheikh Zayed Islamic Center Dr. Rashid Ahmed; Lecturer at Department of Languages & Literature at International Islamic University Islamabad Sadaf Mehmood; Principal Jamiatul Raza Islamabad Allama Muhammad Asghar Askari; President Anjuman Asatiza-e-Pakistan and Khateeb Jamia Masjid Mohafiz Town, Lahore Pir Atharul Qadri; Principal Jamia Sheikhul Islam Sabza Zar, Lahore Allama Professor Muhammad Ahmed Awan; Nazim Taleemat Jamia Ghosia Rizvia, Islamabad Professor Muhammad Aslam Jalai; Principal Jamia Ashrafia Okara Maulana Abdul Qadeem; Principal Jamia Naeemia Islamabad Maulana Gulzar Naeemi; Vice Principal Jamia Muhammadia, Islamabad Maulana Tanveer Ahmed Alvi; and Maulana Babar Hussain Babar