A robust social contract puts people at center of the debate
On 27 October 2017, PIPS launched "Imraani Muahiday ki Tashkeel-i-Nau (Reconstruction of Social Contract)", authored by Dr. Khalil Ahmed, a political philosopher. The event was attended by teachers, academics, media, and was chaired by educationist A.H Nayer.
The chair noted with curiosity that the book repeatedly points that different sections of the society have been calling for revising social contract in the country. Grievances have come from ethnic groups to religious minorities, all demanding more rights.
Dr Khalid Masud, former chairman of the Council of Islamic Ideology (CII) praised the book, mostly descriptive in style, for arousing a reader's curiosity. "A reader", he said, "starts to question after reading it'.
He noted the book's style is descriptive, presenting to the readers the worldviews on the question of social contract from a range of civilizations, ranging from Hindus and Chinese to the western.
On the topic of social contract, the former chairman CII said that social contract lead to the establishment of state, as people felt their rights are endanger, they asked the state to protect them. Yet, it was hinted, what if the state itself stands accused of not following the contract in spirit.
Meanwhile, Executive Director of the Pakistan Institute for Parliamentary Services, Zafarullah Khan, reminded that "Pakistan has got the best social contract in the form of 1973 constitution, but unfortunately it hasn't been given that much importance which it deserved." He argued that "breaking the constitution is not considered as an offence".
Khurshid Nadeem, anchor and columnist, said in his review of the book that it "reflects a liberal school of thought" that call for primacy of individual rights and freedoms. As to the link between social contract and constitution, Khursheed Nadeem argued that the two-nation theory can be considered as some sort of social contract on the basis of which Objectives Resolution was formed and ultimately, the Constitution was shaped.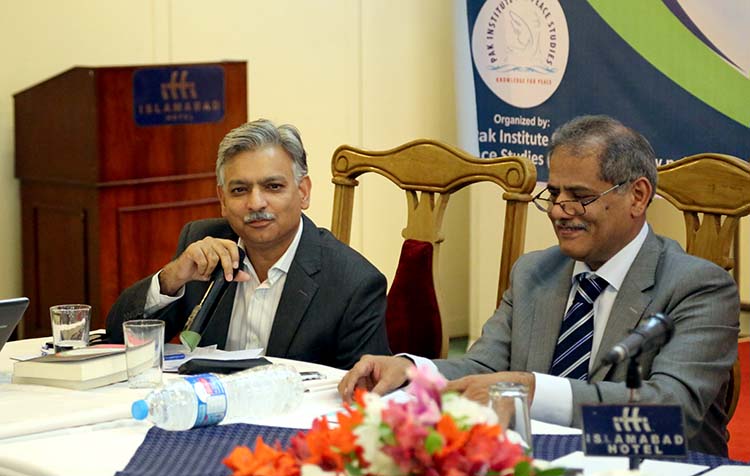 On the role of the state, he argued state is to act as administrator; power should rather be held with citizens.
Dr Khalil Ahmed clarified that he does not consider constitution as the social contract. According to him, social contract is based on cooperation among people, rather than between state and citizens. State's mere responsibility, he said, is to provide protection to citizens.
Moreover, he argued that most of the citizens in Pakistan live on their own, and are not much dependent on the state. That itself explains the need for a new social contract.