Continuous state-to-state and people-to-people engagement between Afghanistan and Pakistan required: PIPS national seminar
On 29 November 2017, PIPS hosted a national seminar "Pakistan's Relations with Afghanistan: Changing Dynamics and Future". It was organized with the support of Frederich Ebert Stiftung (FES). The seminar was attended by scholars, diplomatic community, journalists, among others.
The seminar called for continuous engagement between Pakistan and Afghanistan, as the regional dynamics, especially in the context of Afghanistan, continue to evolve. More so, the two countries should invest in structuring people-to-people ties, noted the speakers.
In his welcome remarks, PIPS director Muhammad Amir Rana, pointed that security is a central issue in Pak-Afghan relations. Additionally, he noted, little progress has been in the area of economic cooperation, transit trade, and regional connectivity – when it comes to the two countries. From FES, Rolf Paasch touched upon the importance of the new entrant in the reigon.
Meanwhile, Vice Chancellor of University of Sargodha, Dr. Ishtiaq Ahmed, said that Afghanistan situation could be understood in three levels – the domestic, regional, and global. Often, the blame game is at the region level, ending up making people of the two countries victim. He argued that old rivalries have started to complicate the situation in Afghanistan.
Afghanistan's ambassador to Pakistan and Afghan President's Special Envoy, Omar Zakhilwal, admitted the current level of mistrust between the two, but also reminded that some recent event has once again led to some opening. Of special mention was the visit of Pakistan's army chief General Qamar Bajwa to Afghanistan, adding that Afghan President might visit Pakistan soon. Yet, the Ambassador too called for expediting the trust-building processes.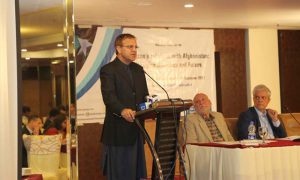 Ambassador Zakhilwal stated that "you have to find way to live in peace". He argued that both the countries have cultural and social commonalities, as well as similar challenges notably security and economy. To this end, he suggested that Pakistan must ensure viable policy for balancing between security and economy.
The first session touched upon the emerging geopolitical and geo-economic situation around Afghanistan, and how that might impact Pakistan's ties with Afghanistan. It was chaired by former ambassador Qazi Hamayun.
Speakers admitted that the new US's strategy for Afghanistan will affect Pakistan too, especially in the context of inviting India to play a role in Afghanistan. India, after all, is Pakistan's traditional rival. Dr. Ishtiaq Ahmed hoped that this rivalry not dent reconciliation process in Afghanistan.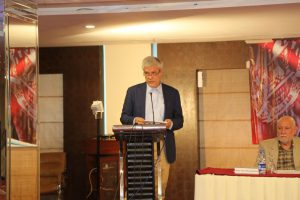 Former Corps Commander Lt. Gen (R) Masood Aslam said that the new US policy is condition-based aimed at preventing the resurgence of Taliban in Afghanistan.
Senior journalists Hasan Khan argued there was nothing new in the Trump's policy. The US policy is hugely militarized already; this policy, like past statements, does not much recognize Pakistan's contribution in the fight against terrorism. A participant also shared that the region should now move beyond the American phase.
Participants also touched upon the role of China in Afghanistan. Rolf Paasch from the FES said that the role of China, besides Russia, could be significant in the region. But former ambassador Aziz Ahmed Khan said that China is the only country with no baggage in Afghanistan and has largely maintained a neutral position.
Earlier, Mr. Rana said that the Chinese-initiated Belt and Road Initiative (BRI) will trigger new transformation in the region's politics, most likely by boosting cooperation between Pakistan and Afghanistan. The BRI is a multi-trillion economic project that traverses through Pakistan and other parts of Asia. Dr. Ishtiaq too said that the BRI pursues idea of connectivity and free trade.
Speakers called for overcoming mistrust between the two. Ambassador Aziz stressed for normalizing relations through discussions and dialogues. Even though both sides have justifications of complaint from each other, there is no escape from each other. There is a desire on both sides to move forward and the only way forward is to engage with each other, he summarized.
Internally too, the two countries should set some modalities. Senior journalist Hassan Khan alleged that Afghan government is divided and conflict-ridden, resulting into lack of any united policy to deal with terrorists. On the end of Pakistan, Hassan Khan said the country doesn't have a proper Afghan policy. For the first, he observed, political leaders are formulating the policy.
Zubair Ahmed Malik said the gamut of trade between Pakistan and Afghanistan is quite wide, covering bilateral, regional, transit and even illegal trade. And yet, even trade becomes a subject of political debate between the two countries. Because of the contestation, bilateral trade has rather suffered. Illegal trade and unauthorized movement of people have further exacerbated tensions. On smoothing transit or illegal trade, he called for removing several bottlenecks such as improving border procedures, strengthening the bonded transport and guarantee system and building the institutional and financial apparatus, besides adopting international best practices.
The second session touched upon people-to-people relations between the two countries.
Former Chief Secretary Khyber Pakhtunkhwa Khalid Aziz lamented that no one takes into consideration the issue of repatriating Afghan refugees into the country. He called upon the states to view the region through humanitarian angle too, rather than being led by security considerations alone.
Chair of the session, former senator, Afrasiab Khattak warned of getting stuck in regional polarization. He even said that the drop in Taliban activity is a winter pause, and it is better that things normalize earlier. It will be in the interest of Pakistan to avoid these eruptions.
TV anchor Saleem Safi said media on both sides often report on the basis of hypothesis, rather than checking facts. He called upon media to avoid negative propagation of each other.
Journalist Marvi Sirmed called for lifting ban on Afghanistan's TV channels in Pakistan. She suggested flexible visa regime be adopted on both sides for enhanced people to people contact, and that civil society and media be engaged in track-2 diplomacy, besides engaging youth on both sides. She called for structuring the people-to-people relations between the two countries.