'Teachers should open minds of students to create tolerant future'
Teachers can build a tolerant future by equipping students with tools that open their minds to diverse opinions, beyond narrow confines. This way, they will not only let accept each other, but also enable them to find answers to critical intellectual questions of the country. This is the way forward.
These thoughts came in a day-long dialogue with around 40 teachers of post-graduate and degree colleges of Punjab, organized by Pak Institute for Peace Studies (PIPS), a Pakistani think-tank. The discussion explored the role of teachers in promoting social and religious harmony.
Dr. Qibla Ayaz, former vice chancellor of Peshawar University, presented before the audience intellectual challenges the country faces as it approaches its 70th independence anniversary. Even now, he hinted, we have to find answers to whether Pakistan was meant to be a religious state, and what is meant by that. This is what teachers should explore, he suggested, as the question continues to emerge time and again.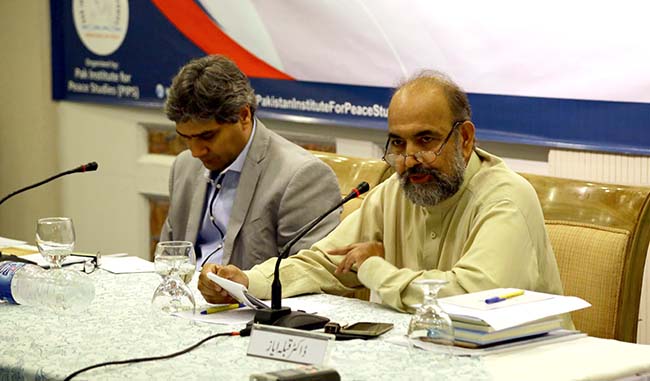 Additionally, he lamented we are not clear about the direction of the state and society. Instead, attempts are made to impose political systems from above – these do not work, leaving us to start from scratch after every decade or two. Teachers are part of this context. They have to be clear about past and future to pass it down to students.
Dr. Qibla called participants – the teachers – to find answers themselves. The dialogue shared that one of the fallout of denying voice and resources to marginalized groups is violence. The solution world over has been a federal structure and democratic continuity.
Renowned religious scholar Ammar Khan Nasir recommended teachers to be watchful of surrounding biases. A partisan teacher is no teacher, he said. The need is greatly felt in today's polarized environment. He argued the purpose of educational bodies is to find answers, rather than propagate personal or political views.
At the same time, for all the flaws in the system around us, Ammar Nasir called for promoting positivity too. One of the attributes of the youth these days, he said, is their candidness; they listen to what is logical; they should be engaged thus.
Meanwhile, director Iqbal International Institute of Research and Dialogue, Dr. Husn ul Ameen wondered why diversity of opinion is projected as bad. A teacher should build capacity to ask question, frame the question, and find answers to that end.
Renowned columnist and TV anchor Khursheed Nadeem noted a rising trend of extremism in people's behaviour, as people do not listen or tolerate each other. Even the so-called literates resort to intimidation. Intolerance comes from sticking to narrow interest, often driven on parochial lines. If people don't act violently, they are not accepted by the society, he said.
But this trend can be reversed by active involvement of teachers who can inculcate tolerance in society, it was noted. Teachers are nation builders, they can infuse students with values and skills that enable them to listen to each other, respect each other, ultimately, being tolerant to each other.
Earlier, starting the discussion, PIPS director Muhammad Amir Rana said maintaining diversity is the key to securing peace in Pakistan. Besides its utility for a diverse country like Pakistan, social harmony is considered a strong indicator marking any nation's progress.
An orientation session with participants was conducted in the evening of August 8. Participants were told about the purpose of the dialogue.
PIPS Project Manager Muhammad Ismail Khan shared with them overview of the strategy of countering violent extremism in Pakistan. Sharing summary of the findings of ten national-level consultations, he said these dialogues found that the road to security in Pakistan is through diversity.
Meanwhile, senior journalist Sabookh Syed briefed them about social media's importance for social harmony. He warned how social media is exploited to propagate hate speech; yet the same media can be shaped to relay positive messages.
Ammar Khan Nasir also spoke at the orientation session, stressing upon the need of social harmony in the country; he briefed them about the guidelines of engaging in constructive dialogue.