Report launch "After study hours: exploring the madrassa mindset"
On January 24, 2018, PIPS launched the outcome of its recent research study in form of a report titled "After study hours: exploring the madrassa mindset." The event, which entailed at-length discussion on findings of the report as well as other aspects of madrassa education, was attended by scholars including religious, civil society representatives, and journalists, among others. Chairperson Council of Islamic Ideology Dr Qibla Ayaz was the chief guest and keynote speaker while scholar and anchorperson Khurshid Nadeem facilitated the discussion.
Speakers noted as we do not properly understand madrassas, it is mainly for that reason that the government policies for them are also unrealistic. Madrassas are generally regarded as a means of mass education, but indeed they provide professional [religious] education. Just like mainstream public and private education in
Pakistan, madrassa education too is divisive with an embedded element of sectarianism. On many accounts, for good or bad, seminary students have much in common with society in general; many follow mainstream newspapers and popular columnists, and are regular users of social media. Yet, despite studying largely similar content, students cannot escape sectarian thinking which is largely a product of environment they live in and the teachers they follow. Even though they read same news, for in-depth analysis, they rely on scholars of their sects, whom they also idealize. Their political views too are sectarian-tilted.
These were some of the key points raised by participants as well as few findings of the launched study put forth by a PIPS representative. The study undertook to explore the after-study engagements of madrassa students and their possible link to extremist/sectarian orientation. As many as 135 students and 89 teachers of over 40 madrassas across Pakistan's four provinces, federal capital Islamabad, AJK and Gilgit Baltistan, were extended a survey questionnaire to obtain firsthand, empirical insight on the issue.
Keynote speaker Dr. Qibla Ayaz highlighted the importance of the institutions of religious educations in the South Asian region especially in the context of Pakistan and Afghanistan. He stressed that it is an important topic to discuss because of its significant impact on politics, economics and international relations of this region. He said the overall situation of Afghanistan cannot be understood without understanding the Taliban, who were primarily teachers and students of madrassas, or seminaries. Either negative or positive, madrassas play an important role in this whole region, he added. He suggested that madrassa studies should to be made part of universities' curriculum because it will help students understand madrassas inside universities.
Khalid Masud, former chairman of Council of Islamic ideology, argued that there is a misconception about madrassa education that it is a mass education but  it is professional education. He mentioned that the most neglected education in Pakistan is primary education.  While answering a question put forth by Khurshid Nadeem whether there is any field in religious education which teaches radicalization Khalid Masud said that madrassa education is largely focused on non-sectarian subjects such the study of Quran and it is the larger sectarian division in society and religious circles that influences those studying in madrassas of different schools of thought.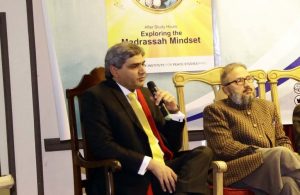 Muhammad Amir Rana, Director Pak Institute for Peace Studies (PIPS), said the way our society has developed madrassas are its major institutions. The main issue is that whether madrassas have any impact on knowledge economy? He showed concern that Islamic studies departments in universities are taken over by madrassa graduates and slowly linguistic departments will also be taken over by them. He suggested that we can learn from Indonesian model of education system which is based on a single, central education system and the curriculum of formal education system and madrassas is same. The students are supposed to study same subjects in the morning hours, however, madrassa students can read the Quran for two hours in the afternoon.  He also mentioned that in Indonesia an introductory course of all religions is also taught, which is mandatory.
Sahibzada Amanat Rasool, religious scholar, stated that madrassa heads are so rigid that they don't appreciate any change in their curriculum and system. They have been following the same curriculum since ages. He recommended that new subjects should be included in madrassa curriculum including from natural sciences. He said that because of social media madrassa students are coming out of their shells and if the same students in the coming years take over their teachers' position then there will be a positive change in madrassa system.
Haris Khalique, columnist and civil society member, disagreed with the narrative that madrassas are responsible for flourishing extremism. He said that Muslim societies in general are facing civilization issues and we are divided into various classes. He recommended a standard education system which should be based on equality and whose curriculum should be same. Unless various education systems in Pakistan are harmonized, the issue will not be resolved, he claimed. He also stated that madrassas are based on divide and differences and have been part of war economy whose continuity will hinder prospects of reforming madrassas.
Journalist Sabookh Syed, who conducted field work for the study under review, revealed that madrassa students who are apparently satisfied with their teachers and curriculum, when interviewed individually, were actually worried about their employment opportunities in future. For instance, in Karachi, the elder son of a prominent Mufti of a seminary expressed his dissatisfaction over madrassa system while he was enrolled in Karachi University to obtain a master degree. He observed that it was due to trust deficit that some madrassas had warned their students to be reluctant while sharing information with media or any news agency. Even some of the students were skeptical if the US has been funding media and news agencies to conduct research on madrassas.
Researcher Mujtaba Rathore sharing his observations stated that mostly madrassas are based on sectarianism. The curriculum, political affiliation, everything else is shaped around the particular sectarian line. He found that teachers' influence in madrassas and perception of NGOs were the core issues. However, keeping in mind students' potential, he further suggested that the subjects like social sciences should be introduced in madrassas.
Mohammad Younis, a field researcher for the study, added that the key reason behind sectarianism in madrassas are the teachers who strongly support and promote their respective sects. He also noted that some local issues in regions like Multan, Sargodha, Jhang and Faisalabad promote sectarian sentiments. He observed that the reason students are not socially updated is that they were prohibited to read newspapers even though teachers have access to daily papers for themselves. He suggested that to tap the potential of seminary students, measures should be taken at state level instead of engaging seminary administration.
Earlier, Senior Program Manager at PIPS Muhammad Ismail Khan shared key findings of the study. He said the study was actually based on the broader assumption that the students of madrassas may not necessarily get radicalized by what has been taught inside the seminaries but what they make of being taught and their activities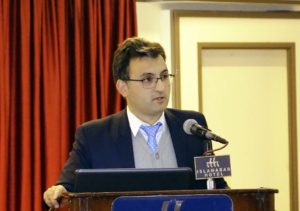 after study hours. Elaborating on the schedule of students, he said that student studies till noon and afterward undertook some co-curricular activities pertaining to sports and other physical activities. An overwhelming majority of the students seemed satisfied with the curriculum and teachers while only a few projected that the curriculum doesn't promote social interaction with the members of other faith of the society. Among their favorite subjects were the Quran and Tafseer (exegesis) followed by Hadith and Asul-e-Hadith (Hadith Studies). Total 20% of the students underlined that they wouldn't like to have social interaction with students of other sects. Their friend list on social media was confined to the members of same sect seminaries like their madrassa fellows. For most, religion was a topic of discussion and debates except the students of Jamat-e-Islami who discussed politics also. Regarding their political views, an overwhelming majority of students selected religious-political party adhering to their school of thought. For instance, Deobandi students preferred Jamiat Ulema-e-Islam than any mainstream political party. They followed mainstream newspaper for daily updates specifically Urdu newspaper like Jang, Nawa-i-Waqt, Mashriq etc.
Students' overall choices [for subjects, discussion topics, favorite personalities, newspapers, magazines, parties, etc.] were somehow shaped around sectarian line. However, the study found sectarian diversity even within this sectarian thinking. Interestingly, Shia students came up with some unique and different responses than students of other seminaries. For instance, majority of students mentioned Quran and Hadith as their favorite subject but Shia students were interested in logic and philosophy.
Among several recommendations, the study also suggested that to help seminary students think above their self-complacent behaviour, efforts should be made to present subjects like history in an engaging and critical manner, relying on tools like logic and reasoning that are already taught in the seminary.
---
Media Coverage:
Pakistan Today (https://www.pakistantoday.com.pk/2018/01/24/madrassah-students-are-tied-to-sectarian-thinking-says-report/)
Daily Times (https://dailytimes.com.pk/188182/reforming-seminaries-greatly-linked-state-social-reforms/)
Express Tribune (https://tribune.com.pk/story/1617359/1-inculcate-critical-thinking-among-madrassa-students-study/)
---
Gallery: