Potential of China's Belt and Road Initiative in South Asia connectivity explored
Participants at a two-day international conference on regional connectivity of South Asia explored the possibility of connecting one of the least integrated regions of the world, South Asia, and whether China's Belt and Road Initiative (BRI) will be able to do so. They also explored the linkages between connectivity and stability, with one contributing to the other.
The conference "Regional Connectivity and Geo-Economics in South Asia" was organized on June 27-28 in Islamabad, and was well attended by scholars, journalists, academics, students, media, serving and former officials, besides speakers from India, Nepal, and China.
PIPS's Director Muhammad Amir Rana thanked the participants and shared the rationale of the conference. He argued that even though South Asians can make immense economic gains, their region is one of the least integrated regions. Clearly, he said, "old rivalries still dog progress on any pursuit of connectivity."
At the same, he outlined, countries in the region have signed up for at least one regional economic project; the most notable of which is China's Belt and Road Initiative (BRI). Pakistan itself is a part of this project under the (CPEC); similar projects run through Bangladesh, Nepal, among others.
Amir Rana added that the BRI has triggered a debate on connectivity and whether that can be undertaken in this region. "The compatible or divergent ideas to BRI are consuming a lot of intellectual resources in many capitals", he shared of his experiences.
One of the debates is about bringing stability in the region. PIPS Director said it was partly to attain similar goal that Pakistan and Afghanistan established a bilateral crisis management mechanism. Amir Rana credited Chinese diplomatic effort for helping normalize those relations, underway since 2016, but went on to ask if China can facilitate a similar channel with India.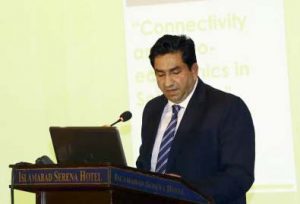 He was followed by Imtiaz Feroz Gondal, Director (China) at the Ministry of Foreign Affairs of Pakistan. He praised Pakistan's historically good ties with China, adding how the multi-billion CPEC project is a testament to that friendship.
The chief guest of the conference was H.E. Lijian Zhou, China's Acting Ambassador to Pakistan. He is also a focal person for China Pakistan Economic Corridor (CPEC). In his comprehensive speech, he delved upon the importance of the topic of the conference – regional connectivity.
China, he said, is expediting its connectivity with South Asia. Resultantly, the number of flights to Pakistan is increasing. Majority of Pakistani students who go abroad, go to China, he said. And yet, he understood, a lot needs to be done.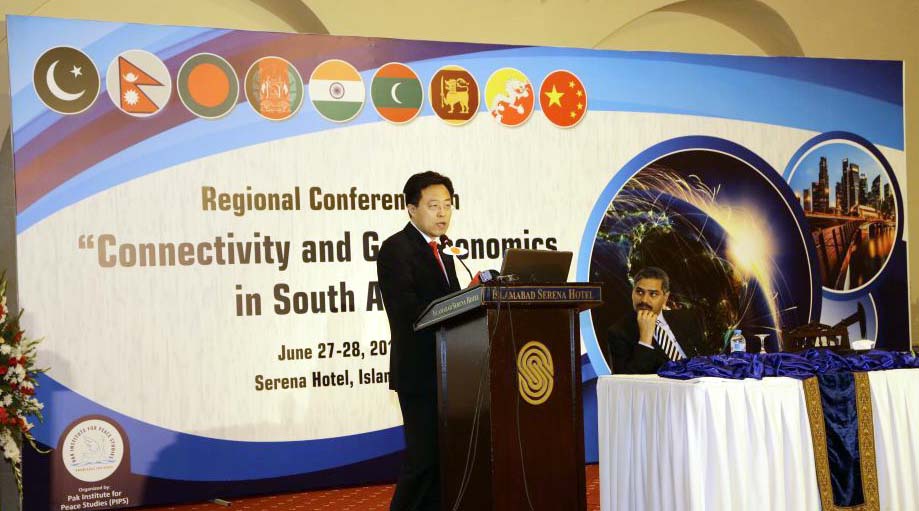 Speaking high of CPEC, he said it was his vision to "build a bullet train trail connecting Karachi to Islamabad." This, he said, will "turn true one day". He attributed CPEC for increasing China's FDI in Pakistan, leading it to top of others.
A session was dedicated to discuss the international context of the on-going discussions on regional connectivity.
From India, Sudheendhra Kulkarni, member of Forum for New South Asia-China Cooperation, South Asia shared his thoughts. He too underlined that South Asia is the "most populous, least integrated and one of the poorest regions of the world". He argued that the idea of connectivity among South Asian countries was never undertaken seriously, but, he added, these countries do not have any other viable option.
He called for building "bridges of trust and cooperation" among South Asian countries, in particular Pakistan and India. "Bridge-building is integral to connectivity", he emphasized. This, he said, is also important in the context of connectivity. While China and Pakistan have deep friendship, he said, and China and India are also picking up their ties, the third side, between Pakistan and India, needs to be strengthened. "Unless this third side of the India-Pakistan-China triangle is strengthened, there is no real hope for connectivity and common prosperity and progress in South Asia", he argued. It is because of communication gap between the two countries that there is a huge gap in prices of day-to-day commodities, affecting the poor segment of the society.
Sudheendhra Kulkarni argued that it is impossible to think of South Asia without accepting China as "a valued and equal member of the South Asian family."
Professor Dr Wang Xu, Deputy Director, Center for South Aisan Studies, Peking University China, highlighted the major hurdles in establishing and maintaining mutual trust-worthy relations. "Hurdles in getting visas of neighboring countries in South Asia is the foremost outcome of lack of proper communication among each other", he said.
He called for building linkages, giving example of his own country. At one point of time in history, he said, China was left alone in the comity of world, but it bridged this gap by improving linkages with the outside world. Now, he said, the situation is different altogether. He called for exploring cooperation, so as to improve bilateral trade.
Yubaraj Sangrula, Executive Director Katmandu School of Law Nepal, turned attention of the participants of the conference towards the revival of South Asian Association of Regional Conference (SAARC), of which all South Asian countries are already members. Without SAARC revival, he said, member states of this region can't benefit from China's led BRI initiative.
In another session, on domestic interface of regional connectivity, a leading lawyer Barrister Shahzad Akbar shed light on the legal, social and economic implications of CPEC. He argued that because most of the agreements between China and Pakistan in connection to CPEC are Memorandums of Understandings (MoUs), they do not have legal status per se. He also brought to discussion the basic difference between the two legal framework of Pakistan and China: While China is run by civil law, Pakistan is run by common law.
Dr Ishtiaq Ahmad, Vice Chancellor, University of Sarghoda, argued that Pakistan opted to join Shanghai Cooperation Organization primarily because India's stance towards Pakistan in SAARC.
He called for following the example of China, saying it has proved wrong several assumptions about it. Today, it has embarked on inclusive national developmental strategy, taking on board all segments of society into the development folds. He hoped that Pakistan too learns from it.
Throughout the two days, participants grappled with the thought of prioritizing geo-economics over narrow geo-strategic consideration.
Afrasiab Khattak, former senator, reiterated the need of connecting people through geo-economic. "Had we invested the amount we spent on fencing of borders with neighbor countries on the constructions of roads with them, we would have better communication linkages than we are today", said Khattak.
When some participants hinted that Iran's Chabahar port is meant to outdo Pakistan's Gwadar port, Khattak called for overcoming the zero-sum game mentality, and move towards a win-win order. Chinese scholar Wang Xu too said that "our improvement in relations with Iran doesn't mean China would shift its investments from Gawader to Chahbahar."
Scholar Fazl ur Rehman, however, hinted if that can be achieved easily, as the BRI itself is being perceived as something sort of attempt to gain political advantage, especially in the west.
Former senator Taj Haider, who was former head of Senate's special committee on CPEC, clarified that the projects and routes identified under CPEC were decided by Pakistan. It was wrong to attribute those to China, he hinted, sharing details of his own findings as head of the committee.
He argued that western regions of the country should certainly be developed under CPEC; otherwise, those areas will be left undeveloped on the one hand, and people will migrate to the developed part, thereby putting pressure on the already bloating demographics of mega cities.
Professor Humayun Khan, Lecturer at the National Defense University Islamabad, said that in both Pakistan and India, extremist elements are trying to playing prominent roles. This is detrimental to both.
Later, on the second day, Dr Shanthie D Souza, founder and president Mantraya, India, shared that people-to-people relation can be a great boost in improving ties. She also called for improving trade through the regional pipeline projects. These will also help in bridging the existing communication gaps between India and Pakistan.
Meanwhile, in his keynote address, Lt. General (Rtd) Nasser Janjua, former National Security Advisor, argued that security and economy are the two facets of a single coin. He said we can't achieve stability without focusing on both of them.
Building the importance of connectivity in the region, he said that 60 percent of worlds' population lives in Asia, thereby naturally making it the center of worlds' trade. Gen. Janjua said Pakistan has central role in the emerging geo-economic order, as it can help connect the countries economically. Even India cannot trade with this part of the world without Pakistan on board, he said.
Dr Syed Jaffar Ahmad, former director Pakistan study center Karachi University, added that CPEC would surely bears fruits, if it remained under the influence of parliamentary and democratic institutions. He urged that linkages among the universities of SAARC countries must be established; such channels can facilitate the mutual access to libraries, books and journals of each other country.
Other notable speakers included Dr. Khalida Ghaus, academic from Karachi University. It was argued that citizens of Pakistan and India need to overcome bitterness, something that can be made possible by civil society organizations.
---
Gallery
---
27-06-2018
---
28-06-2018