Reclaiming cultural spaces can curb extremism
CVE Consultation-8
Given that one of the direct casualties of extremism in the country is its rich diversity, providing enabling environment for pluralism can fade out extremist voices. To do so, the government shall, on priority, approve culture policy upholding diversity and release "Cultural National Action Plan", securing pluralistic spaces across the country.
These suggestions came in a national-level consultation discussing "Cultural diversity and pluralistic co-existence", the eighth in a series suggesting mechanism to counter violent extremism, hosted by Pak Institute for Peace Studies (PIPS), on April 25, 2017 at Hotel Margala, Islamabad.
Members of the working group called upon the parliament and provincial assemblies to initiate debates on to what extent, diversity got dissipated by policies aimed at shaping singular national identity in the past. These policies failed to achieve the goal of social cohesion, a situation aggravated further by the wave of extremists, who, by their nature, are against pluralism. Today, cultural spaces upholding diversity have shrunk. Today is the need to reclaim those spaces, at both intellectual and physical realms. Only then can extremism be eliminated in the long run.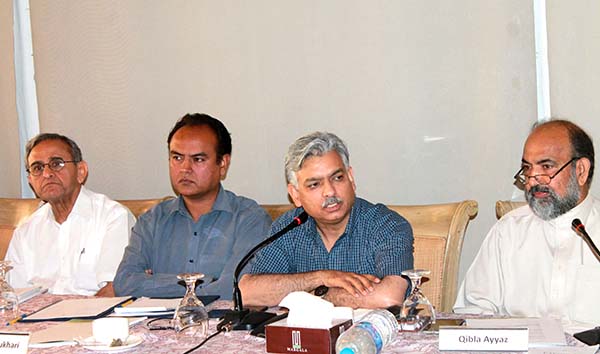 The group members called for immediately approving the cultural policy at national and provincial levels. The policy, it was suggested, shall be reflective of universal human values, extracted from the international statutes Pakistan has signed upon. Decrying negative practices carried out in the garb of local cultures, the group suggested the approved cultural policy shall clearly spell out gender equality as its cardinal principle.  The group members asserted that enforced uniformity is dangerous.  Pakistan is a multicultural, multiethnic country; to make it functional, the interests and ambitions of all the ethnicities and cultures should be given space. Imposing monolithic identity, be that ethnic, is wrong. Federalism is not merely administrative, but also cultural, ethnic reintegration.
The group called for exploring rich civilizational background of the country. Pakistan is home to Mehr Ghar, Indus, and Mohenjodaro civilizations. Those should be promoted. Similarly the land of Pakistan has also hosted Sufi saints. People like Moeenuddin Chishti went through the areas of Pakistan. Local cultural role models like Rehman Baba be included in the curriculum. Likewise, mother tongues be promoted, it was suggested.
The group noted that lack of appreciation of diversity is particular detrimental to non-Muslims. Even though non-Muslims in Pakistan are indigenous to the country, living mutually with Muslims for centuries, they are viewed as foreign to the country, the participants aggrieved, saying they are not treated as equal citizens and their culture not appreciated as Pakistan's. It was suggested that festivals of non-Muslims be promoted and their contribution to Pakistan acknowledged.
Working group members also called for charting Cultural National Action Plan, which facilitates celebrating cultural activities, inclusive of all faith and ethnicities. The approach of this plan shall be bottom-up; events shall be celebrated upon the recommendations of stakeholders from the ground all the way up to provinces, followed by the center, to accommodate diversity.
The group members called for celebrating cultural events at all tiers; promoting unsung role models, such as activists who struggled for people's rights, such as by bestowing awards to them; engaging culture-friendly professionals in institutions impacting cultural diversity; preserving folk culture and poetry; securing cultural heritage sites and monuments, inclusive of all faiths; providing for inclusive spaces; withhold the trend of unconditionally changing names of different sites. These measures, of protecting cultural diversity, will also boost tourism for the country.
Members of the group who attended the meeting included Fauzia Saeed, executive director, Lok Virsa; Nadeem Omar Tarrar, director, National College of Arts; Afrasiab Khattak, former senator; Irfan Ahmed Urfi, writer; Khurshid Nadeem, religious scholar; A.H. Nayyer, educationist; Dr. Qibla Ayyaz, former vice chancellor, Peshawar University; Saeeda Deip, peace activist; Mujtaba Rathore, development professional; Farzana Bari, gender activist; Rashad Bukhari, peace activist; Marvi Sirmed, human rights activist; Mukesh Kumar, TV producer; Akbar Notezai, journalist; Abdullah Dayo, peace-building professional; Bilal Ahmed, radio journalist, Saleem Shahid, senior journalist, and Muhammad Amir Rana, director, PIPS.