"Overcoming mistrust a must to reset Pakistan-Afghanistan ties"
Despite best efforts to reset ties between Pakistan and Afghanistan, major breakthroughs are rare. At root lies mistrust, which thrives on misperception about each other. These should be overcome, should the two countries really want to move forward.
These thoughts came in a seminar "Pakistan-Afghanistan Relations: Exploring the Way Forward", which PIPS organized with the support of Friedrich Ebert Stiftung (FES), on 4 October 2018, in Islamabad. The seminar was discussed with the objective of discussing the way forward as new government took power in Pakistan.
In his welcome remarks, PIPS director Muhammad Amir Rana said the connectivity of the two countries can help connectivity with the wider region of South Asia and even rest of the world. And yet that is not achieved, as both are still stuck with the past.
Human rights activist Marvi Sirmid spoke about the status of Afghan refugees in Pakistan. She wondered why nothing has been done for them even though third generation is
presently growing up. Many have been born in Pakistan. At the same time, she argued that any policy of dealing with refugee issues should consult local stakeholders, especially in Balochistan.  The issue of Afghan refugees should be dealt with a human rights dimension.
Marvi Sirmed also lamented the negligible presence of women in the Afghanistan Pakistan Action Plan for Peace and Solidarity (APAPPS) working groups. She called for including more women in a framework that seeks a sustainable solution on Afghanistan.
Senior Journalist Rahimullah Yousafzai, who has deep insight on Pak-Afghan developments, said when Ashraf Ghani became Afghanistan's president, there was a sense of optimism in Pakistan. He came to Pakistan where he interacted with civil and military officials. Yet, he hinted, there has been little progress so far.
Rahimullah Yousafzai also called for acknowledging that the idea of the plan of action was Pakistan's brainchild, which was meant to bring about coordination on a range of issues. Presently, seven working groups are functional.
He suggested that Pakistan should strike friendship with all ethnic groups, instead of Pashtuns only; that it should engage Afghan government. Above all, he argued the relations between the two should be bilateral, so that they understand each other; this is important given the involvement and interest of many other countries.
He pointed that cricket, music, arts and educational diplomacy too require consideration; finally, he said, the Islamic State of Iraq and al-Sham (ISIS) poses a common threat to both countries; the two can therefore cooperate against ISIS.
Later on, Lt. General (R) Muhammad Hamid Khan, former Corps Commander Peshawar, noted that "coordinated military operation" can be conducted against common threats, such as Daesh, ISIS. However, he also pointed that there are negative perceptions about each other, emanating from deep historical paranoia.
Former Ambassador Aziz Ahmed Khan pointed there are still many ups and downs between the two countries, which can be resolved through constructive ways. Touching about the debate surrounding Prime Minister Imran Khan's statement of awarding citizenship to Afghan refugees, he said that even if citizenship is not offered, some middle way can be found out, such as by some kind of resident cards to them.
The conference also touched upon the new dimension of 'religion diplomacy'. Pakistani and Afghan religious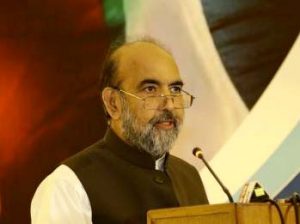 scholars met in at least two international dialogues to discuss violence in Afghanistan and the religious justifications given to it. A participant of those dialogues, Dr. Qibla Ayaz, the Chairman of the Council of Islamic Ideology (CII), shared that a range of scholarly issues such as religious justification of war in Afghanistan had come under discussion in those sessions. Some of the contesting issues were about the presence of foreign troops, among other. Yet, he said, that while there is agreement on what is right and wrong, the differences are about mechanism or modalities of issuing the commonalities.
Afghanistan's ambassador to Pakistan and Afghan President's Special Envoy, Omar Zakhilwal reminded that when it comes to the recent past, there has been "no shortage" of official visits and positive statements. He shared that the highest number of visits by Afghan President Hamid Karzai to any foreign country was to Pakistan. Similarly, successive governments in Pakistan have tried to reset ties with Afghanistan.
He shared the scope of Pakistan-Afghanistan relations is wide; there are multidimensional issues. And yet, he said, the relation is not much part of political discourse on both sides. He suggested that "we need to interact within ourselves, instead of with each other only."
He further said that Pakistan and Afghanistan needed to engage with each other with sincerity and honesty focusing on people of both the nations and overcoming the existing misunderstandings.
However, he also shared that because of several wide-ranging high-level visits from both sides, especially because of the formulation of comprehensive Afghanistan Pakistan Action Plan for Peace and Solidarity (APAPPS), the blame game from both sides on the media has substantially reduced.
---
Policy Brief:
---
Media Coverage:
Daily Times, Oct 5, 2018
Daily Express, Oct 5, 2018
Daily Jang, Oct 5, 2018
Dawn, Oct 5, 2018
---
Gallery: