First-ever Dialogue Pakistan discusses critical national issues with parliamentarians, experts, key officials
On January 26, 2019, Pak Institute for Peace Studies (PIPS) organized the first-ever "Dialogue Pakistan 2019", a series of dialogue sessions on critical national issues facing the country, with leading parliamentarians, religious scholars, experts, and former civil and military officials.
Spanning for the entire day, "Dialogue Pakistan 2019" comprised of sessions on the religion-state relation, national security puzzle, supremacy of parliament; ties with neighbouring countries; and the quest for identity.
Context
In his introductory remarks, PIPS director Muhammad Amir Rana said the purpose of "Dialogue Pakistan" was to ensure that we listen to each other, to promote a healthy debate in the country. He said PIPS has already engaged a range of stakeholders in this regards, in particular teachers, students, religious scholars but also parliamentarians and policy makers. In 2017, PIPS released Pakistan's indigenous plan of countering violent extremism, built on a series of consultations on different aspects meant to counter extremism, participated by academics and practitioners alike.
Former Chairman of the Council of Islamic Ideology (CII) Dr. Khalid Masud appreciated the effort, saying that dialogues are much-needed in a society, which is increasingly relying on one-sided monologues. He lamented how aggressive dialogues have become a norm in recent times; this he attributed to  the lack of appreciation of diversity in the country.
Dialogues are the way forward for our society, he said. He elaborated that 'dialogue' does not necessarily entail communication between two people, but across different people. Islam, he said, also calls for promoting dialogue.
Sessions
The first session, debating role of religion in state affairs, was moderated by Khursheed Nadeem, a renowned columnist.
Participants mostly took a historical view, suggesting that the role of religion in contemporary affairs of state can be best understood in the country's genesis. To date, there is debate what the founders desired.
Chairman of the Council of Islamic Ideology Dr. Qibla Ayaz argued that the founders of Pakistan did not resort to religious slogans in justifying creation of the country. Such slogans, he said, were rather peddled by the mob. The two, elite and mob, had different views on what the country was supposed to be. Meanwhile, Maulana Muhammad Khan Sheernai, former Member of National Assembly, stressed to have an explicit definition of religion, state, and society. When the word state is used, he asked, what is meant by that. Same is the case with religion and so on.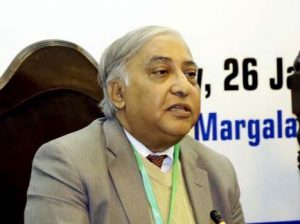 Dr. Syed Jaffar Ahmad, director of the Pakistan Study Centre, University of Karachi, shared that Pakistan was created on separatist grounds, rather than any religious ones. It was after the independence that the bureaucracy pushed projected political Islam to pursue their interests.  To review our mistakes, he said, is necessary to talk openly about past. Dr. Muhammad Malik, former rector Islamic International University, Islamabad (IIUI), called for approaching the concept of state and religion as envisaged by the founders, in particular the country's national poet, Muhammad Iqbal.
The second session debated whether Pakistan is a security state, and what explains national security in the country. It was moderated by PIPS Director Muhammad Amir Rana.
Senator Farhatullah Babar noted that by various definitions and characteristics, Pakistan appears to be a security state. Decisions are taken by security establishment, and the concept of security dominates other thinking. As to the concept of public welfare, that is an illusion in a security state. Even parliament, he said, cannot play its constitutional role to the fullest. He called for a dialogue between civilian and military players to come out of this malaise.
General (Ret.) Amjad Shoaib disagreed with the notion of Pakistan being a security state, saying that people of Pakistan enjoy every freedom while nation is not usually free in a security state. To be sure, he agreed, there are security issues that are of concern, but that does not stopping anyone else from legislating for people's welfare. Parliament is responsible for the socio-economic development of Pakistan, he added.
Meanwhile, academic intellect Dr. Parveez Hoodbhoy said civil-military trust deficit should be addressed and the armed forces should confine to its role rather interfering in policy making. He said the problem arises when institutions overstep from their mandate.
Yet another session, exploring supremacy of parliament, was conducted; it was moderated by PIPS Senior Project Manager Muhammad Ismail Khan.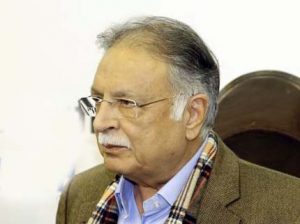 Senator Parvez Rasheed, former Federal Minister of Information, aggrieved that Parliament has been nonfunctional in many aspects. Parliament, he said, is not sovereign, as real powers are vested in the hands of those sitting outside of the parliament. As to the role of political parties in weakening the Parliament, he said, parties have to fight for their own survival. Former Senator Afrasiab Khattak argued internal stability is not possible without the active role of parliament.
Former Member of National Assembly Hafiz Hussain Ahmed said political parties are also responsible for eroding the position of the Parliament. Parties themselves opt for extra-constitutional means, he hinted.
Nafisa Shah, Member of National Assembly, agreed that non-serious behaviour of parliamentarians is also blameworthy. She disagreed that Parliament is not supreme, saying that even the wrongs committed in the past needed parliamentary approval in the end. As to the way forward, she called for making Parliament more accessible and open to people.
A session on Pakistan's relations with regional countries was chaired by Inam ul Haq, former foreign minister, who said Pakistan should be more focused on economic development.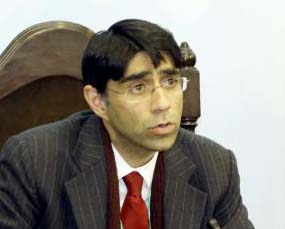 Moeed Yusuf, Vice President at the United States Institute of Peace, said one word that determines Pakistan's foreign policy is India. Not only at regional level but globally every single decision made has been driven around India. He said while we continue to indulge in debates about facts, the world around is changing. He said ten years down the road, India-Pakistan power differential will be equal to India-Sri Lanka's.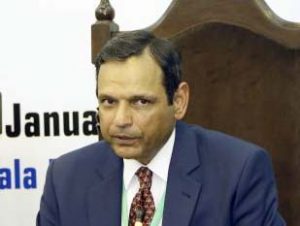 Maj. Gen (Retd) Athar Abbas, former DG of the Inter-Services Public Relations, military's media wing, argued Pakistan does face a host of security challenges, due to which the armed forces have to be vigilant. He appreciated the role of security institutions in countering some challenges."When Indian National Security Advisor talks about covert operations", he said, this is a challenge to be confronted.
Journalist Rahimullah Yusufzai said the state's foreign policy evolved due to security concerns from start. Pakistan and Afghanistan have been supporting each other rivals since the 1960s, he said.
The last session on identity crisis was moderated by Harris Khalique, poet and author.
Former chief minister Balochistan Dr. Abdul Malik Baloch said the religious construction of Pakistani nationalism is not creating cohesion, the brunt of which is borne by smaller ethnicities. He said as Pakistanis, we want preservation of our languages, cultures, and resources.Earlier, he wondered if the 18th constitutional amendment, which devolved powers to the provinces, will be rolled back.
Sohail Sangi, senior journalist, said that the due share of provinces must be ensured without any discrimination. Only then can they undertake socio-economic development, he said.
---
---
Media coverage:
---
Gallery: