Teachers asked to adopt critical thinking and an inclusive educational approach
PIPS workshop with teachers and educationists-II
Teachers need to adopt tools of critical inquiry in their own research as well as in teaching others. This will help them keep their teaching content and approaches uninfluenced by political and religious ideologies. While our textbooks and syllabus promote differences among students adhering to different faiths, teachers can play their role to break such stereotypes against one or another.
These views were expressed by participants of a two-day training workshop titled "Role of teachers in improving social cohesion and religious harmony" organized by Pak Institute for Peace Studies (PIPS) in Murree on May 30-31, 2016. More than 36 teachers of Islamic studies, from Khyber Pakhtunkhwa and FATA, attended the training. The workshop-cum-dialogue was second of a series of three such events, which have been designed to promote tolerant and inclusive educational narratives in the country; first workshop was held in Karachi on April 27-28, 2016.
Notable speakers included Dr. Khalid Masood, Islamic scholar who headed Council of Islamic Ideology; Dr. Qibla Ayaz, former vice chancellor of Peshawar University; Khursheed Nadeem, columnist and scholar; Dr. A.H. Nayyar, educationist; Amar Khan Nasir, Islamic scholar; Romana Bashir, peace activist; and Wusutullah Khan, journalist.
Ultimate paradox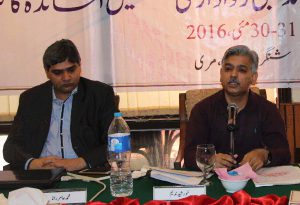 Starting off the discussion, Mr. Khursheed Nadeem, a scholar who writes weekly column and host a regular TV show on the issues facing Muslim world, wondered as to what is the cause-effect relation between education and society: Does education influence society? Or is it other way around, with society setting agenda for what needs to be taught?
This, he said, is the ultimate paradox in engaging teachers to promoting social harmony.
Elaborating the point, he argued that if education is to direct society, a teacher takes on the steering role. But if the roles are reversed – with society shaping education – then, leaders in the society take the driving seat.
The role of a teacher
Touching upon the subject, participants stressed the importance of having "genuine" scholars – those who produce knowledge with direct relevance to social needs. "If scholars stop producing knowledge," Mr Nadeem warned, "quacks with superficial knowledge will take over." He advised teachers attending the training to be true "activist", in the sense of producing research relevant to society. He repeatedly called for scholars and teachers to focus on research and education. They should not be concerned with political ideologies, whatever side of the spectrum. Educational institutions should be concerned with education only. "Research should be their forte," he emphasized.
Meanwhile, Amir Rana, director PIPS, said in recent times, there have been moves to bridge gap between natural and social sciences. This should be supported. "If we don't rely on natural and social sciences, those forces will dominate the thinking, who end up paralyzing thinking," he said.
All agreed that teachers have a central role in not only teaching the content of the courses, but also building characters of their students.
Critical inquiry
Speakers advised teachers to adopt tools of critical inquiry in both their own research and teaching others. These tools should empower them to question their own notions, without falling prey to hearsay or getting influenced by political ideologies.
To engage students in research, universities should open up to new thinking – something that requires being ready to "unlearn" things afresh, said former vice chancellor of Peshawar University, Dr. Qibla Ayaz. "We are influenced by different schools of thought; sometimes, it's necessary to learn from scratch."
Dr. Ayaz pointed to the 1980s as the pivotal decade when the country's socio-political worldview changed – all in the name of religion. Because we lacked critical inquiry, we accepted notions that were never untrue, he argued.
Several speakers illuminated how religion was invoked in that history to its national interest. Religion, after all, had a role in society. It is one way to contest India over points like territory or rivers, some argued, but it is another to portray it as a battle between right versus wrong.
Questions of identity and teaching
Meanwhile, peace activist Romana Bashir enlisted several problems non-Muslims face in existing educational setup of Pakistan: For one, textbooks still are filled with hate material against non-Muslims. "Our syllabus promotes differences among students", she said, as a result of which, she added, teachers had to face problems.
She argued that at the time of Pakistan's creation, there was no such indication that this country was meant for non-Muslims. The founder of Pakistan, Quaid-e-Azam, also called for a citizenship void of any religious leaning. But that doesn't appear so. "Today's majority was minority yesterday", she reminded.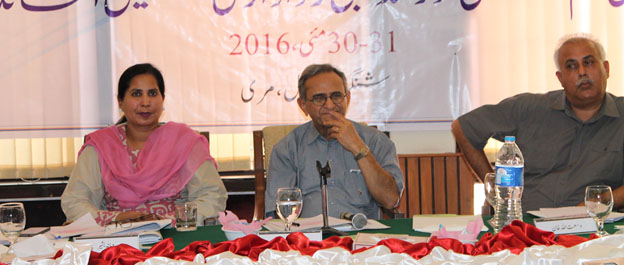 Scholar A.H. Nayyer called for revising curriculum that includes all instead of creating stereotypes against one or another.
Taking part in the discussion, PIPS director Amir Rana gave overview of how Pakistanis identify themselves. Quoting surveys, he asked participants to ask as to why there is still confusion on whether we are Muslims first or Pakistani first or ethnic groups first. He shared that those who stress upon their Muslim identity either belong to low-income groups or are young. This means, he argued, that many review their own thoughts with changes in socio-economic status or even age. Teachers too operate within such a context.
Meanwhile, renowned Islamic scholar Khalid Masood argued teachers should shun negativities around terms like "diversity" and "variation". Diversity, he argued, is our strength.
Media highlighting differences
Renowned journalist Wusutullah Khan recalled that even though the environment in 1960s was much tolerant compared to today's Pakistan, even then, students were taught in such a way that they couldn't differ between Hindu and Indian. Sharing example from media, he narrated how the newspapers till 1970s would often report riots or even fistfights in India as some sort of anti-Muslim riots.
Khan agreed that media is to be blamed, saying that media fall for knowledge quacks before media personnel themselves are not well-read and therefore, unable to judge between right and wrong.
Madrassa-university gap
A participant brought to attention the gap between worldview of the students of madrassa and universities. "While madrassa student doesn't give much attention to natural sciences, a university student is believed to have little knowledge of the basic concepts of religion", he said, saying that people from madrassas, for their austere outlook, are stereotyped and relegated to the lower strata. This gap should be bridged.
Media Coverage