"Pakistan Saga Awards 2019" celebrates stories of struggles
On August 23, PIPS organized "Pakistan Saga Awards 2019" ceremony in Islamabad, presenting awards to some of the best video packages on pluralism, diversity, and rights. The ceremony was attended by journalists, academics and diplomats.
Awards were given to top five videos, made in the last one year. A total of 120 video packages, each 3-4 minutes long, on themes like women issues, countering violent extremism, critical thinking, minority rights, and social harmony, were produced and disseminated on social media.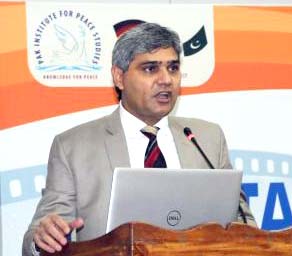 PIPS Director Muhammad Amir Rana, in his introductory remarks, said Pakistan is a diverse country, but this diversity is often out of sight from mainstream media. Pakistan Saga captures this beauty and presents it to the delight of your sights. The idea is to highlight positivity. He appreciated the contributors who had made video packages for Saga.
Andreas Wutz, First Secretary at the German Embassy presented the best video award to Bushra Bibi for highlighting the story of a girl from Peshawar who lost her hands at early age but continued pursuing her education. While she lost her arms, she did not lose aims, as she continued writing with her feet. Today, she has been a position holder in her class.
Appreciating work being done under Pakistan Saga, the First Secretary said diversity is the beauty of Pakistan that needs to be preserved.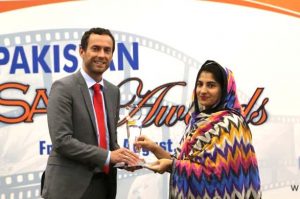 The second best award was given to Amar Bilal Rana for a video package on the country's first transgender radio host who has been promoting transgender welfare and community rights. The main character of his story, Nadeem Kashish, was also in attendance. Aggrieving the stereotypes associated with them, Nadeem said life is not easy and it has been difficult for transgender to find decent jobs.
The third best video was presented to Abdullah Malik for a story of a woman in Peshawar's Christian Colony, who had established an educational setup where she has been providing education to all, including Muslims and Sikhs of the city. In a time where a great need is felt for promoting interfaith harmony, this institute is doing its best to promote harmony in the community.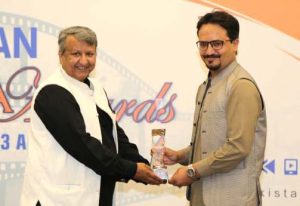 Two of the motivational videos received appreciation awards. One, produced by Ali Hassan Khawaja, was story of a woman who has come all the way from Sialkot to Islamabad to make her earning and to settle her debts via stitching footballs. Another story, produced by Maimona Malik, tried to explore the problems faced by non-Muslim pertaining to studying Islamic Studies in education institutes of Pakistan.

Among prominent figures attended Saga award, Chairman of the Council of Islamic Ideology (CII) Dr. Qibla Ayaz appreciated the role of non-Muslims specially Christians in education and health departments of Pakistan. He underlined CII supported transgender demand of separate identity and granted them self assumed identity in the light of religious code.  He said it was a big development, which led to the passage of the law that mainstreamed the transgender community.
Meanwhile, Vice Chancellor Sargodha University Dr. Ishtiaq Ahmad noted that highlighting human rights issue in Pakistan is not an easy task. More need to be done in this regard.
Senior journalist Owais Tohid applauded services of all social activists and journalists who have been trying hard to explore the complex issues of the society amid shrink space and freedom of expression.The participants enjoyed Pakistani folk and classical instrumentals played during the ceremony.

Earlier, Project Director PIPS, Muhammad Ismail Khan said Pakistan Saga is the country's first video magazine to highlight the social issues ignored by mainstream media. He said the purpose of Saga was to provide alternative platform, for critical thinking. He also shared the process through the 5 videos were shortlisted.
---
Media Coverage:

---
Gallery: