Consultation on Promoting Narratives of Diversity, Inclusion and Peace among Youth
Day 1: Monday, 27 December 2021
Muhammad Amir Rana, Director Pak Institute for Peace Studies, commenced the two-day consultation with his introductory and welcome remarks. He thanked the consultants as well as the audience for their invaluable time and participation, saying that the Pakistani youth faced  diverse challenges from education and career to intellectual development and civic grooming and their role in broader societal context. "Constructive exercises such as this consultation are crucial for promoting understanding and problem solving around the problems of Pakistani youth. Surely, the advice and exchange of views would lead to better understanding of the issues.", he said. Amir Rana said the Peshawar consultations were the leadoff of the countrywide consultations to be held in the federal and provincial capitals.
Program Manager PIPS Ahmed Ali explained that the consultation is an important part of the PIPS endeavor to promote freedom of religious faith in Pakistan by educating and sensitizing the youth around themes of interfaith harmony and peace. Giving details of the project objectives, he highlighted that the PIPS conducted training and educational workshops for university students across the country in 2020-21, and this year, the organization was organizing consultations in all provinces to share the findings and recommendations drawn from these workshops. The objective of the consultation is to gather experts and practitioners for thorough discussion on how to develop youth policy and legislations considering these recommendations.
Panel Discussion 1: Reforming the education system for inclusive and critical learning.
Prof. Dr. Syed Hussain Shaheed Soherwordi from University of Peshawar pointed out that the failure to converge democratic, national, and religious identities has created confusion. Consequently, some people are religious, some nationalist and some democratic, but few are ready to take all three identities simultaneously, he said. "The second key issue that hinders any effort toward peace and harmony is our tendency to conspire." Dr. Hussain believed that conspiracy theories intensify problems as people stop looking inward to diagnose and correct the problems but kept looking outward and blaming others. Finally, he pointed out the need to bridge the distance among different institutions and create an understanding among them. Ideally, it is the role of academicians to recommend policy, which legislators would develop, and bureaucracy would implement. However, in practice, bureaucracy is doing all these jobs, resulting in flawed policies we see at present. He also recommended coordination among different national units at the grassroot level and proposed the implementation of European model where a university/college student has to spend one semester in another region.
Dr. Minhas Majeed Marwat, Assistant Professor at University of Peshawar called attention to the irony in people's approach towards diversity. "We proudly claim to be a diverse nation, yet we never celebrate that diversity and want to create an artificial homogeneity." She recognized the role of teachers in promoting intolerance among youth, arguing that teachers have their own identities which they tend to impose on students. She held teachers responsible for the lack of critical learning among students as they discourage debate and reasoning in lecture halls and want students to just parrot their thoughts without any questioning. She held that we have constructed a gender narrative where women are seen as fragile and weak, and, hence, are deprived of all avenues to showcase their leadership quality and power.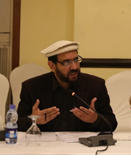 Answering question on how to address the coordination gap between universities and other state institutions and lack of research culture in our universities, Dr. Rashid Ahmed, Associate Professor at University of Peshawar made several important recommendations. First, the focus needs to be on primary education where the foundation of critical learning should be laid. Second, there should be some coordination between parents and teachers and parents should also take active part in educating their children. Third, while it is important to increase the number of students in public schools, more teachers should also be appointed to maintain a manageable teacher-student ratio. Fourth, the system of credit hours has reduced the avenues for group discussions. The system needs to be revised in a way to replace hours dedicated to lectures with research and group discussion activities.
Dr. Naushad Khan, Professor at Islamia College Peshawar underlined the socioeconomic divide in the education system of Pakistan. With multiple education systems, the country produce youth belonging to varied schools of thought. If we want to create a national narrative, we must unify our education system. Dr. Naushad suggested the creation of a new National Education Commission and dissolving other higher education commissions. He advised that the new education policy must be built with involvement of all stakeholders, particularly students. He also stressed upon the need to reduce the discrimination and polarization in our curriculum.
Dr. Aamer Raza, Assistant Professor at University of Peshawar, spelled out the ideological underpinning and orientation of the Pakistani education and the resultant emotionalism it creates among students. "The system is ideological rather critical and, consequently, it can only create restrained mindset. The system indoctrinates a narrative instead of encouraging students to develop their ideologies based on their own critical understanding." He clarified that that his criticism to the ideological foundation of the education system does not mean that the education system should run without an ideology. The ideology, however, needs to be inclusive and encourage co-existence. Hence, he advised to redefine the nationalist ideology, making it more inclusive and reforming the education system and curriculum accordingly.
Dr. Abdur Rehman Khalil, a senior academician from the Shaykh Zayed Islamic Center at University of Peshawar, believed that before educating the youth, there was a need to educate the educators. He held that lack of critical thinking and analytical reasoning is a problem of teachers rather students. "If teachers cannot think rationally, how we can expect them to teach critical inquiry to their students. Our education system is based on what, when and who but there is no space for why and how.", he said. He appreciated PIPS for arranging such an important talk and requested to arrange similar programs in university campuses in future.
Panel Discussion 2: Preventing and Countering Religious Extremism in Pakistani Youth.
Senior journalist Rifattulah Orakzai held that the key question to be answered is how the youth embraced extremism. According to him, social and political dynamics in the region played their part in attracting the youth towards extremism and terrorism. He held the Afghan war responsible for escalating extremism and militarism in the region. In addition to these regional dynamics, multiple other factors influence radicalization among youth in Pakistan such as presence of local terrorist groups spreading sectarianism and radical ideologies among youth across the country; foreign funding of seminaries and jihadist groups without proper check; unemployment and absence of alternatives to utilize youth energy; underdevelopment, weak rule of law, and poor governance that instill a feeling of hatred and distrust towards the state; and flaws in curriculum and education system.
Shagufta Malik, an MPA from Awami National Party, highlighted the geostrategic position of Khyber Pakhtunkhwa province, that makes it particularly vulnerable of terrorism. She also linked the issue of terrorism and extremism with the poor economy as she believed poverty aggravate extremism. Shagufta criticized the narrative of good versus bad Taliban. She held that a group or individual that promotes violence or targets the innocent cannot be labelled as good.
Barrister Muhammad Ali Saif, Spokesperson for the Khyber Pakhtunkhwa government, presented extremism as a civilizational issue. He held that extremism is not limited to a particular region, society or an individual. He asserted the need of a comprehensive, critical and analytically dimensional analysis of the issue and, for that, recommended looking into historical factors. He held that any system that does not provide opportunities according to one's own capability leads to psychological and identity issues. According to him, extremism was also linked to capitalist economy and "democracy" which he termed alien to this region. The failure to address the problem of extremism stems from the fact that the roles of capitalism and democracy in extremism have been overlooked, he added.
Dr. Khalid Masud, Judge, Supreme Court of Pakistan, Shariah Appellant Bench, shed light on the relationship between religion and extremism explaining that what Pakistan is facing at present is a war of narratives. One must differentiate between narrative and ideology. Narrative tends to change with the shift in context to achieve certain goals. Hence, what was first termed as jihad, after fulfillment of the objective, was labelled as extremism and terrorism. To counter such narrative, we need to bring a counter-narrative. While we talk of national narrative, the narratives we introduced as national level were not acceptable to everyone.
Panel Discussion 3: Legislation on Youth Affairs: Addressing the Gap in Promises and Practice
MPA Sardar Ranjit Singh, a member of standing committee on religious and minority affairs in Khyber Pakhtunkhwa assembly and a politician of JUI (F), held that being member of a minority community and a legislator, he has always raised his voice in the assembly for the protection of the rights of minorities. He complained about growing intolerance at the social level, where young members of minority communities feel unsafe and isolated. He held that the minorities should not be treated as minorities but rather as non-Muslim Pakistanis.
Another member of the standing committee on religious and minority affairs, MPA Ravi Kumar, highlighted the role of his party, PTI, in legislation and policy making for youth. In 2016, a draft of the youth policy was made. Similarly, Youth Development Association was established. The current government has also initiated several programs to facilitate youth in entrepreneurships. In 2019, Youth Development Commission was formed and some 8000 youngsters were hired. In addition, the government has started exposure programs and employment programs specifically targeting the youth of minorities.  The quota for minority employment in public offices has been raised from 0.5% to 1%. He, however, recognized that there is still room for improvement and youth and minorities should keep raising their voice to address legislative issues concerning them.
Day 2: Tuesday, 28 December 2021
Panel Discussion 4: Youth and media: Countering hate speech and radical narratives on mainstream and social media.
Izhar Ullah, Correspondent at The Independent Urdu, commenced the discussion with a thorough analysis of the concept of hate speech. He suggested that there should be a clear definition of the term because different organizations define it differently, in accordance with their agenda. Also, youth in general has little understanding of hate speech. He suggested adding contents on hate speech in university curriculum so as to give students conceptual clarity about hate speech. The second issue with regard to hate speech on social media, according to Izhar, is the poor moderation system of social media sites. He advised the social media companies to localize the moderation system and hire moderatos with knowledge of local language and discourse to allow quick action against any content that promotes hate speech and violence.
Dr. Syed Irfan Ashraf, Assistant Professor, University of Peshawar pointed out the structural issues that result in radical narratives. Commenting on PIPS finding on growing confusion among youth, Dr. Irfan held that this confusion has been engineered purposefully. He called it 'strategic confusion' because the confusion among youth has been capitalized for strategic purposes. Dr. Irfan explained that multiplicity of identities is a natural phenomenon. Youth must not feel confused about their multiple identities i.e., political identity, religious identity, national identity; what matters for them is to identify their primary identity.
Jamshed Bhagwan, Bureau Chief Express News, criticized the society and state for teaching hypocrisy to children from early on and then blaming them for being confused. Jamshed Bhagwan talked at length on the growing religious radicalization in the country and how it is engulfing the society. He held that people fear standing up to radical elements for they fear for the life and wellbeing of their loved beings. With environment of fear taking over the society, even the media outlets are scared to question or counter the narratives propagated by the radical quarters.
Nadia Saboohi, Special Correspondent Geo News Peshawa, focused on the role of parenting in making children accepting of diversity. She held that even before media can influence the mind or a school can indoctrinate a kid, the parents teach kids to discriminate on ideological and linguistic grounds. Parents should also closely monitor how their kids are using social media and should encourage positive use of social media for educative and learning purposes.
Panel Discussion 5: Adding the ignored voices in youth policymaking.
Haroon Sarab Dayal, Scholar and Human Rights Activist, held that due to unavailability of alternative avenues for using their energy, youth used their energies in negative manner, and we see a rise in violent extremism in them. They have no say in the policymaking that directly addresses their problems, creating frustration and a feeling of deprivation. He believed that children should be taught inclusive history of the region as several faiths and religions have co-existed here with peace. He also advised youth to make effort for their inclusion in the policymaking, using social media for the purpose.
Mehwish Mohib Kakakhel, President female wing Pakistan Jurists Association and Director Pakistan Human Rights Movement, held that the key issue in the policymaking is that they are developed without consultation of the main stakeholders. She held that consultation of youth, particularly the vulnerable segments of youth such as women and religious minorities, is critical because there is a generational gap between bureaucrats who design and implement these policies and the ones being affected by these. She made several recommendations to add the unheard voices in policy making such as establishment of student unions in all universities, taking input from youth of different minorities, and active involvement of youth in peacebuilding and other civil initiatives.
Panel Discussion 6: Citizenship identity and constitutional awareness among Pakistani youth.
Mr. Shahid Mehmood, HRCP regional coordinator elucidated the repeated derailing of the democratic process in Pakistan, criticizing coups and suspension of the constitution. He argued that the politicians often take the blame for the mess created and left by dictatorships.  He also criticized the policy making structure in the country, where citizens pay for the policy blunders which are framed arbitrarily without their participation or consent. He also linked the issue of extremism in youth with the economic structure where rising inflation and unemployment make many young people join radical groups. Finally, he pointed out the absence of reading culture in Pakistan. As people do not read, they become prey to groups and individuals spreading hatred and intolerance.
Advocate Arbab Ifrahim, Legal Advisor, Pakistan Development Foundation and a senior advocate, also linked the prevailing constitutional illiteracy among youth with the political structure of the country. He agreed that constitutional literacy is a must for all citizens because without it people cannot be aware of the crucial state-citizen contract and their fundamental rights defined in it. In Pakistan, people seek faith-based or ethnic-based identities; what they don't care about is constitution-based identity. To deal with this issue, everyone will have to play a role, including academia, media, government and state. Children should be taught civic education at home as well. At the societal level, we should celebrate diversity by celebrating rituals and holidays of all religions. He also recommended teaching short courses on constitution to public officials.
Highlighting the significance of constitutional literacy among youth Danyal Ahmed Paracha, Chairman KP Youth Assembly, held that the crux of the constitution is "citizenship." Danyal believed that political mobilization of youth must always succeed the constitutional awareness because it is the constitution that integrates different and diverse social groups into a nation. However, he recognized that no constitutional rights can be secured unless people stand up for each other's rights.
Advocate Durdana Khan, Member KP Youth Assembly talked of the chronic illiteracy about constitution in Pakistani society. She quoted the Article 9 of the constitution that protects the right to life and liberty. Notwithstanding such provisions, human life and liberty are at stake every single day because of lack of awareness about these rights. Answering question on the lack of awareness of their constitutional rights among women in Pakistan, she gave example of Nikah contract which is a legal document and yet the signatories sign them without even giving it a read. Educated youth, having the energy and numerical strength, have an important role to play in this regard.
Shahzad Khan, President Youth Council Pakistan, complained about the absence of any youth policy in the province despite youth being the majority of population. He said that political parties ride to power on the shoulder of youth, capitalizing the youth's energy and activism. Once in power, they forget the youth. He held that state uses terms without defining them clearly and use this ambiguity to serve their own political interest. He questioned the audience if they are aware of the meaning of "national security" which is being used for years to justify state unlawful practices.
Syed Zaland Ali Shah a young advocate and human rights activists linked the constitutional literacy with the issue of extremism in the country. He held that the seed of authoritarianism was sown soon after the creation of Pakistan when Quaid-e-Azam Muhammad Ali Jinnah unconstitutionally dismissed the government of Khan Sahib in KPK. However, he also held the society responsible for empowering clergy. He asked why people relegate the duties to perform religious rituals on "Mulla" despite religion authorizing everyone to perform these rituals. Advocate Zaland also found flaw in the class-based structure of our education system that creates a social divide among students of madrassah, public and private school at the very beginning of their life.