PIPS launch of report "Pakistan's Afghan perspective and policy options"
PIPS launched its report titled as "Pakistan's Afghan perspective and policy options" on 30 May 2023 in Islamabad. Experts on the security and Afghan affairs, academics, lawmakers, journalists, students, and representatives of civil society, among others, attended the event.
Introducing the report to the audience, PIPS joint director and research analyst Safdar Sial said the number of terrorist attacks in Pakistan has posted a phenomenal increase of 73 percent during the first 21 months since the Taliban seized power in Afghanistan, as compared to corresponding period of time before their takeover. The number of people killed in the attacks in Pakistan from August 2021 to April 2023 (21 months) has also increased by 138 percent.He underscored that Khyber Pakhtunkhwa (KP) and Balochistan provinces have witnessed a marked impact of the Afghan situation in terms of terrorist violence, where the number of attacks during these 21 months surged by 92 percent and 81 percent, respectively. However, the number of terrorist attacks in Punjab, Sindh, and Islamabad Capital Territory has seen a relative decline since the Taliban takeover.
These emerging trends of terrorism will only add to Pakistan's persistent security challenge in terms of Taliban militancy in KP and the erstwhile tribal areas, Baloch nationalist insurgency in Balochistan, ethno-nationalist violence in Sindh, as well as growing religious extremism and radicalism. "Protracted over a longer period of time, such an environment of insecurity, militancy, and violence can pose serious threats to political and economic stability as well," Mr. Sial noted.
Deputy Head of Mission of the Royal Norwegian Embassy in Islamabad Dr. Maha Noor Khan speaking on the occasion said that Norway was one of the few countries of the world that has always supported "to continue to have dialogue with the (Afghan) Taliban." She said that promoting conflict resolution and reconciliation was the central aspect of Norwegian foreign policy. Expressing her concerns about the women's situation in the war-torn country, she said that the Taliban government's decision to deny women and girls of their right to education and work was a serious violation of human rights. "We underline the need for a more representative and inclusive government (in Afghanistan)," she also said.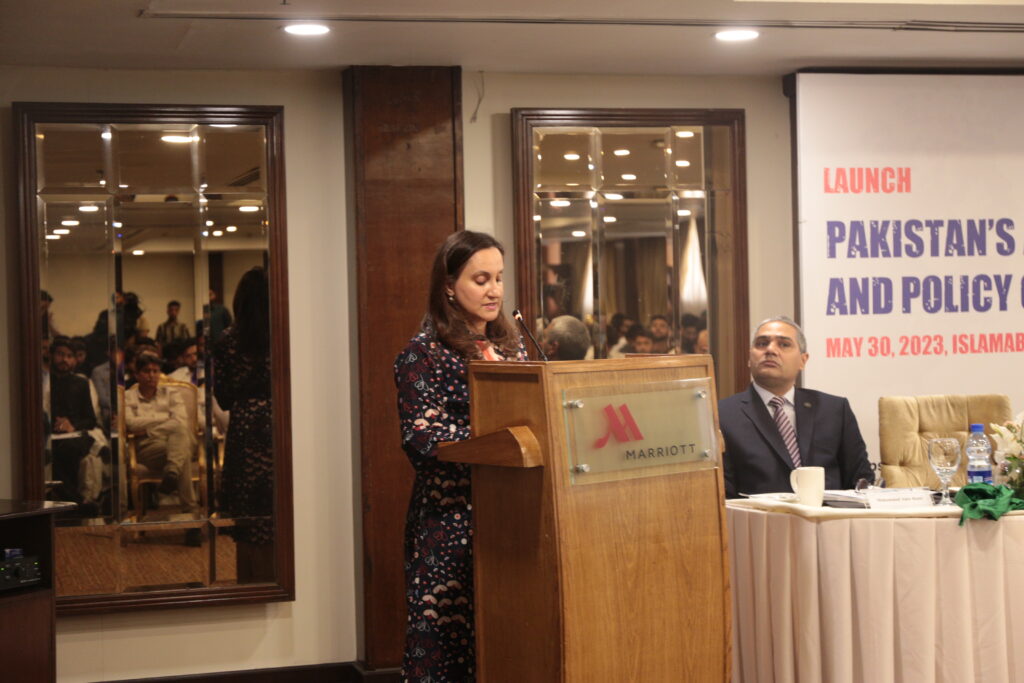 Ms. Khan underlined that the PIPS report was a firsthand account on Pak-Afghan bilateral relations, which will contribute to existing knowledge base. "Through this report, we hope to get better understanding of situation, which will benefit the Afghan people," she added.
Professor of Politics and International Relations at the Quaid-e-Azam University in Islamabad Dr. Zafar Nawaz Jaspal said that all segments of the society had a consensus that Pakistan's over five decades long Afghan policy needed to be revisited. "Rather than simply looking from the point of view of religion and economy, it should include input from all stakeholders," he said. He urged that Pakistan should treat Afghanistan as a sovereign state, strengthen its border management, and curb smuggling.
Defense and strategic affairs analyst Maj. Gen (retd) Inam Ul Haque viewed that banned Tehreek-e-Taliban Pakistan (TTP) and border fencing were the two "variables" as well as irritants in Pak-Afghan relations. "If Pakistan deals with both correctly, then it can improve its relationship with Afghanistan." He said that the banned group had the potential to spoil Pakistan's relationship with Afghanistan.
Senior Afghan journalist and analyst Sami Yousafzai underscored the fact that Afghan Taliban is a reality, and they are in control of almost the whole Afghanistan. Talking about the challenges faced by Pakistan, he said there are many, however, the biggest challenge is the TTP.
Senior journalist based in Quetta Shahzada Zulfiqar said that the attacks in Khyber Pakhtunkhwa and Balochistan have increased since the coming of the Afghan Taliban into power. About the problem of Baloch militants, he said that Pakistan has been requesting both Afghanistan and Iran to act against the Baloch militants hiding there, however, both have been denying the presence of Baloch militants on their soil.
Former first deputy speaker of the Lower House of the Afghan Parliament Mirwais Yasini pointed out that the core issue was to build trust between Pakistan and Afghanistan. He added that mistrust existed between both countries for a very long period of time.
Senior journalist and Afghan affairs expert Tahir Khan emphasized that the TTP is Pakistan's problem and not of Afghanistan. He further said that nothing in Afghanistan happens without the approval of the Taliban emir Hibatullah Akhundzada.
Analyst and columnist Zaigham Khan stated that Afghanistan and Pakistan are closely interlinked in almost every aspect. Talking further about the Pak-Afghan relations, he said that for smooth and friendly relations between the two countries they need to start afresh. He stressed that both countries should stop from interfering in each other's internal affairs.
Former Senator Afrasiab Khattak in his concluding remarks said that the presence of militant organizations including TTP and Daesh or Islamic State in Afghanistan could provoke a new conflict as well as second war of terror, which would have serious consequences for the region. He urged Pakistan to change its policy towards Afghanistan, adding that the previous one was flawed, which only create problems for it.
Earlier, Director PIPS Muhammad Amir Rana in his welcome note said that Pakistan must widen its policy options and policy framework, which should be based on inclusivity with having input from all stakeholders, on the issue of Afghanistan.
Q&A session
After the panelists' opinion on the report, there was a question-and-answer session. The participants, around 145 in number – constituting students, media persons, government officials and others – asked the panelists questions on the material in the report which were expertly answered.