A roundtable on conflict in Balochistan
Pak Institute for Peace Studies conducted a roundtable on conflict in Balochistan on 4th February 2011 in Islamabad. The participant speakers included political leaders from Balochistan, representatives of civil society and development organizations, media persons and scholars. PIPS Director Muhammad Amir Rana coordinated the discussion. The purpose of the roundtable was to share with the participants key findings of a recently published PIPS report on conflict assessment of Balochistan and get insight into how the recommendations offered in the report could be strengthened and turned into practical programs of development.
In his opening remarks PIPS Director Muhammad Rana noted that Baloch insurgency had spread to almost all parts of Balochistan and without genuinely addressing the demands of Baloch people and taking on board all the stakeholders, an amicable solution of the problem could not be worked out. He maintained that measures like 7th National Finance Commission Award (NFC), Balochistan Package and 18th Constitutional Amendment were the steps in the right direction. However, without their judicious implementation any reduction in violence did not look possible.
Research Analyst at PIPS Abdul Basit presented the summary of the PIPS report on "Conflict and Insecurity in Balochistan: Assessing Strategic Policy Option for Peace and Security." After highlighting various aspects of Balochistan conflict along with policy recommendations, he asked the participants of the discussion to propose suggestions for programmatic interventions in the province with a view to promote peace.
A summary of participants' comments is given below:
Mr Abdul Basit Mujahid 
General Secretary, Balochistan Intellectual Forum, Islamabad 
A series of incidents and broken pledges have eroded Balochistan's trust in the Center. Without mobilizing the political will of the state actors to resolve the conflict in Balochistan nothing can be achieved. Announcing different packages and awards for Balochistan is not what the province needs. The 1973 Constitution, if implemented in its true letter and spirit, can pave the way for peace. However, without the political will of the federal and political governments and sincerity of Baloch elders this is least likely to happen. The current provincial assembly of Balochistan does not represent whole of the province. The present governments are doing nothing except paying mere lip services to the problems of Balochistan. Islamabad is acting like a silent spectator. Baloch people believe there is nobody sincere enough in Islamabad to address the woes and sufferings of the Baloch people.
Ms Safiya Aftba 
Chief Executive, Strategic and Economic Policy Research (SEPR), Islamabad 
Political considerations related to economic matter are stronger in Balochistan than other federating units of Pakistan. However, bad governance and corruption in various announced policies and development plans hinders the efforts to make headways in current state of affairs in the province. Politics impacts economy, which is a real concern of the aggrieved Baloch. The real issue is how to ensure implementation of development and political initiatives.
Mr Syed Ziaul Noor 
Country Head, The Muslim Hands 
Baloch leadership is equally responsible for the suffering of the Baloch people. Instead of blaming the Center all the time, Baloch leadership needs to put its own house in order first. Balochistan's leadership is part of the problem as it is insensitive and hardly bothers about sufferings and rights of the Baloch. Meanwhile at the national level leadership is not responsive either. At national level no accountability is maintained for funds and budgets allocated for Balochistan. There is a need to improve the accountability mechanisms as well as a strict monitoring of various development projects. Muslim Hands has been working in health and education sectors in 11 districts of Balochistan since 2003 and not a single school has been threatened or closed down so far. It has established 251 primary schools and more than 2,000 students are enrolled there and most of them are girls. Baloch people and even local community leaders are development friendly. It is imperative to invest in education and infrastructure in Balochistan.
Mr Fadullah Wilmot 
Country Director, Islamic Relief 
There is not much difference between 1971 situation in Bangladesh and current state of affairs in Balochistan. If things are not taken care of there is very likelihood of history of 71 crisis repeating itself in Balochistan. The discriminatory policies of the center have contributed to a strong sense of alienation in the people. People at community level need peace. Instead of paying lip service, it is about time that international development community and donors should come up with concrete plans and measures. Even small scale projects like installations of water hand pumps, digging of tube wells and addressing problem of sanitation can help in minimizing the violence in the province. Security forces' training programs can be started. There is also need to develop infrastructure in the province. Moreover, human rights violation is another problem which should be addressed forthwith. Local communities should be empowered. A lot of investment is required in health sector.
Mr Raees Gul Zaman 
President, Balochistan Mines and Gold Association
The ills in Balochistan exist due to illiteracy, higher rates of unemployment and erroneous policies of the central government. There is no comparison of level of education of Karachi and Lahore with that of Quetta or any other district of Balochistan. To make intervention of international development community more meaningful and result-oriented they should consult with the local leaders at the community level. Local community leaders can best apprise them of what kind of development projects are needed in various areas of Balochistan and how they can be implemented. There are vast mineral and marble resources which can be tapped as well to generate employment opportunities for Baloch youth.
Dr Abdul Maalick Baloch 
President, National Party (NP)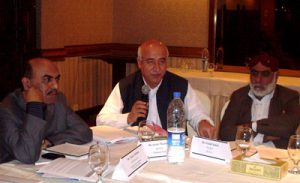 The report by the PIPS is an objective analysis of Balochistan conflict and recommendations are very relevant. Balochistan faces two major issues: attitude of the establishment which needs Baloch resources but not its people; and a genuine leadership crisis. Establishment leased the province to feudal lords and Sardars. Over the years elections were state managed and engineered which barred the real public representatives from reaching assemblies. Out of 92 Sardars in Balochistan only three have been anti-establishment. To reinforce their position of authority not just Sardars but even the establishment discourages education. Higher Education Commission (HEC) spends Rs 20,000 per annum on one university student in Balochistan, while in other provinces the amount is Rs 140,000 per annum. It is imperative to invest in people-friendly development, that is, development for people of the area and not such projects which are not benefitting the local people.
The international community should influence the government to give up human rights violations in Balochistan and produce all the illegally detained and missing persons. Center is doing to Baluchistan what Sinhalis did to Tamils in Sri Lanka. In 21st century nations cannot be eliminated. So instead of trying to enslave people of Balochistan, a solution should be worked out which gives Baloch people their constitutional rights with dignity and honour.
Mr Naseeer Memon 
Chief Executive, Strengthening Participatory Organization (SPO) 
Balochistan is one manifestation of multiple types of crisis unfolding in Pakistan polity. Pakistani state as a whole is responsible for the existing ills in Balochistan. The fundamentals need to be corrected. If document of 1948 instrument of accession agreed between Baloch people and newly independent state of Pakistan is implemented honestly the issue of Balochistan can be resolved. Autonomy without possession of resources and representation at federal/national level is useless. It is analogous to treatment meted out to Bengalis in 1971 and same is being repeated here. The policy of branding people as traitors or patriots is fatally problematic and it has generated violence.
The mainstream intelligentsia of Pakistan is also becoming a partner in crime by remaining silent and indifferent to sufferings of Baloch people. The right of the Balcoh people over natural resources should be accepted and respected. The policy of sucking all resources and not giving due share to the Baloch is highly unfair. Moreover, equal representation of Baloch at all levels should be ensured. There is a need to increase resource allocation for human development as well. Balochistan Package is a good step but its judicious implementation is vital, which is becoming a victim of bureaucratic bottlenecks. If negotiation with Taliban and India can be conducted then why talks cannot take place with Baloch insurgents? It is good to have a meaningful dialogue with all the resisting elements that have picked up arms and have revolted against the state.
Professor Abdul Wadood 
President, Balochistan Intellectual Forum 
The PIPS recommendations are very much relevant. But who will implement? You should have invited the security establishment and state as well in this discussion. Without changing the mindset of the security establishment positive progress on Balochistan conflict is not possible. Baloch leaders are being assassinated in mysterious ways. Then how trust can be restored? There is a dire need to create an atmosphere of mutual trust which is based on honor; only then an amicable solution can be worked out.
Mr Shahzada Zulfiqar 
Quetta-based journalist
The situation of education facilities in Baloch-dominated areas is worrisome. The other communities in Balochistan such as Pashtun and settlers are far ahead in that regard. Closing the doors of education to Baloch masses is an unforgivable crime. Turning a military cantonment in Sui into a military college, a step government took recently, is however a good step. Moreover, dialogue is the need of the hour but issue of missing persons is a stumbling block in the way. Since June 2010, at least 93 Baloch youths were killed and their decomposed dead bodies were thrown in isolated open areas. Perishing the Baloch militant is no solution but a recipe for further violence. They are Pakistanis and persistent efforts should be made to convince them to give up the armed struggle and come to negotiation table. Human development and education should be the top priorities for peacemaking efforts in Balochistan. There is also need to look into how the political governments can be strengthened.
Dr Ismail Baledi 
Senator and Leader of JUI-F 
Several proposals are discussed and recommended to the government but they are never implemented. Such things have been going on inside and outside the parliament but all suggestion of solving the issue of Balochistan fall on the deaf ears of insensitive leaders. Security establishment has been rigging elections in Balochistan and the real representatives of the people have been barred from contesting elections. The real issue right now is who the real representative of Baloch people is. Balochistan was part of Pakistan only in theory not in practical terms.  Out of 56 federal secretaries in federal bureaucracy no one is from Balochistan. Without cultivating trust based on equality and honor, positive headways in Baloch conflict are not possible. Moreover, human rights violation on the part of security forces feeds violence and separatist fervor. In line with 1973 constitution, Balochistan needs it due rights and not concessions. An all-party convention, under the supervision of Pakistan's President, be convened which should chalk out agenda of negotiations with Baloch separatists.