Religious scholars agree to strive for peaceful and tolerant society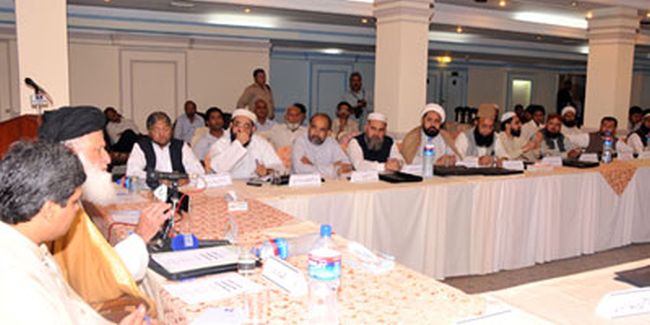 Prominent religious scholars, representing various schools of thought, pledged to strive for a peaceful and tolerant society in Pakistan. They emphasized that differences of opinion should not be used as a channel to engender hatred and hostilities among the people. They agreed that discouraging all sorts of violent tendencies in society was a collective responsibility. The religious scholars expressed these views in a two-day seminar titled "The Role of Religious Scholars in Promotion of Peace and Harmony in Society," organized by the Pak Institute for Peace Studies (PIPS) on 21-23 June in Islamabad.
Chairman Council of Islamic Ideology Maulana Muhammad Khan Sheerani said in his opening remarks for the inaugural session that many of our problems have emanated from the unconstitutional and undemocratic regimes and same is true regarding the state of peace and tolerance in the society. He said that sectarianism is thriving due to poor governance and lack of direction in the society. He also noted that along with the political leaders the religious scholars have also failed in playing their constructive role in the society. He maintained that instruments of logic and rationale have been displaced from religious discourse by Fatwa, or a religious decree, and the rule of law by the rule of gun. He stressed that the religious scholars should spread the message of peace and love, and self-accountability should remain a priority before them.
Director PIPS Muhammad Amir Rana said role of religious scholars is utmost important in promotion of peace and harmony in the Pakistani society particularly at this juncture of time when extremism and violence are rife and people are confused about their real causes.
Addressing the first session of the seminar titled "Features of a Peaceful and Harmonious Society", Director Ulema Academy, Mansura, Dr. Farid Paracha presented the regional and global perspective of the subject. He said Pakistan is in a state of war and the religious scholars have a vital role to play to create awareness among people about respect of human life.
Dr Syed Muhammad Najafi, a religious scholar associated with Jamia Al-Muntazir Lahore, discussed in length the socio-economic features of a peaceful and harmonious society and said that for establishment of such a society there is a dire need to create equal opportunities and to maintain rule of law. He emphasized the importance of human rights for a human being.
Sharing his views on the subject of sectarian harmony, member of Gilgit-Baltistan Council and the Principal Darul Uloom Gilgit Maulana Attaullah Shahab said that religious and political harmony both are essential for establishing a peaceful society, however, none of them exists in Pakistan. He was of the view that religious intolerance and sectarianism encourage the anti-religious behaviors.
Renowned religious scholar Dr Khalid Zaheer said that for discouraging sectarianism, it is incumbent upon the government of a Muslim country to appoint unprejudiced Friday prayer leaders and to draft official sermons.
General Secretary Wafaqul Madaris Al-Arabia Maulana Muhammad Hanif Jalindhary, who presided over the first session, said in his remarks that by doing away with social deprivation and providing efficient and speedy justice to common people peace and harmony can be restored in the society.
The topic of discussion for second session of the seminar was "Challenges to Creation of a Peaceful and Harmonious Society". Principal Jamia Naeemia Lahore Maulana Raghib Naeemi said while addressing this session that radicalization is increasing in the society due to lack of opportunities for education and the social division in the society. He said that due to social injustice and poverty militancy is flourishing across the country and that for restoring the much needed balance in the society we have to improve social sector as well.
Director Center for Islamic Studies, Peshawar University, Dr. Qibla Ayaz was of the view that the Afghan Jihad laid the foundations of religious extremism and militancy in Khyber Pakhtunkhawa (KPK) and Federally Administered Tribal Areas (FATA) which destroyed the entire social fabric of these areas while sectarianism also took an alarming shape. He said religious scholars had a pivotal role in improving and restoring peace and harmony in KPK.
Leader of Rabitatul Madaris and Principal Jamia Al-Falah Karachi Maulana Qari Zameer Akhter Mansoori said ethnic, sectarian and criminal violence is the biggest challenge in Sindh province. Absence of the writ of the government in Karachi and interior Sindh have deteriorated the law and order situation in the province.  Wafaqul Madaris Shia Balochistan representative Allama Akbar Hussain Zahidi said the internal war in Balochistan started due to our own policies for which we should work together. Principal Jamia Islamia Muzaffarabad Qazi Mahmoodul Hasan Ashraf opined that there is need to restructure the mosque and madrasa systems to evolve them as the centers for knowledge and excellence. He said that the difference of opinion is a sign of healthy and vibrant society.
Presiding over the second session, head of Minhajul Quran Ulema Council Allama Syed Farhat Hussain Shah underscored the fact that to promote the sectarianism in the society religious beliefs and symbols are targeted and maligned. In such circumstances it is the duty of religious scholars, he asserted, to make collective efforts at all possible levels to provide durable solution to these problems.
Addressing the third session of the seminar titled "Role of Ulema in Promotion of peace and Harmony", head of Wafaqul Madaris Salafia Maulana Yasin Zafar said that the religious scholars have a collective role and duty to mitigate the prevalent religious intolerance, rising militancy and sectarianism in the society. Vice Principal Darul Uloom Muhammadia Ghosia Bhera Dr Abu-ul Hasan Shah said that the respect of other sects, their leaders and beliefs can reduce the wave of hatred and intolerance among different sects. Former senator and Principal Madrasa Ariful Hussaini Peshawar Allama Jawad Hadi said people think that Ulema are responsible for increasing hostilities in the society. Despite this religious scholars should come forward to take the responsibility of promoting peace and harmony in the society. Vice Principal Al-Sharia Academy Gujranwala Maulana Ammar Khan Nasir suggested that the religious scholars should take unanimous decisions on national issues like Jihad in Afghanistan and Kashmir, Khrooj and war on terror for the guidance of the common people.
Former Chairman Council of Islamic Ideology Dr Khalid Masood emphasized on establishing the rule of law and said that religious scholars have obligation in any functional Islamic society to raise awareness about it. Speaking on the occasion as chief guest in the concluding session, Advisor to Prime Minister on Human Rights Mustafa Nawaz Khokhar said that to address the contemporary issues there should be a union of Islamic countries on the pattern of European Union.
Chairman Ruet-e-Hilal Committee and Head Tanzeemul Madaris Maulana Mufti Muneebur Rehman said while presiding over the last session that we cannot blame others for our every social ills. Instead, he said, it is time for serious soul searching and self-accountability. He added that terrorism should not be justified on any pretext or excuse and the government should also take an unambiguous stance regarding war against terrorism. In his closing remarks, Director PIPS said that dialogue is the most powerful weapon in today's age of globalization. He appreciated the spirit of the discussion and said that such lively debates are instrumental in finding solutions of confronting various contemporary issues and challenges.
During the seminar proceedings five working groups of religious scholars were also formed to discuss various issues and matters related to promotion of peace and harmony in the society. Five topics discussed during focus group discussions were:
What should be the balanced role of madrassas in promoting balanced views in society?
How to promote a culture of peace and harmony in society?
Suggestions to counter political and socio-cultural factors of extremism in society
Role of Ulema in countering extremism in society
Role of Ulema in promotion of sectarian harmony in society
After extensive consultations working groups agreed on some recommendations for their role in promoting the peace and harmony in the society. The religious scholars hope that recommendations can pave the way towards a peaceful society.
(Details of recommendations will be available soon)
Links: